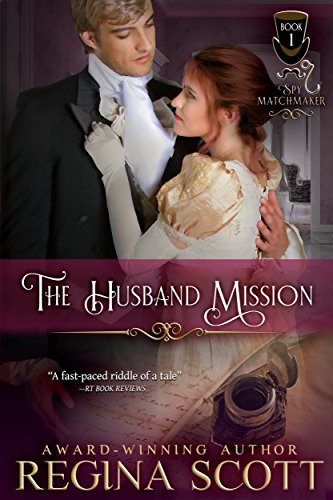 The Husband Mission
by Regina Scot
★★★★★
What could go wrong when you find perfect husband for your stepsister?
The Husband Mission is a sweet, fun read. Great characters, some simply adorable scenes ("Places!"), and several quirky, endearing characters. Katherine ("the Colonel") picks out the perfect husband, Lord Borin, for her stepsister, Constance. If Constance doesn't marry in the next six weeks, she will lose her fortune to a nasty piece of work. Of course, there's only one problem with picking out the perfect husband for someone else… you might live to regret it.
If you enjoy clean regency romances and sweet love stories, this one's for you. I'll definitely be reading more by Regina Scott.
Book description
Katherine Collins is on a mission. With no means and few prospects, the spirited spinster is financially beholden to her stepsister Constance, who stands to inherit a large fortune–if she marries in the next six weeks. What better than to present Constance with the perfect husband, Alexander Wescott, Lord Borin? After all, Katherine has been spying on the handsome, wealthy viscount, just to make sure he's the man she hopes.
Alex cannot understand why he's under surveillance, but it seems to have something to do with the intriguing Katherine. Rejected for service by England's spymaster and encouraged to set up his nursery instead, he ought to be searching for a wife. But what wife can compare to the excitement of international espionage? Unless, of course, she's up for a little espionage herself.
First book in the Spy Matchmaker series, this sweet Regency romance was originally published by Kensington. The Spy Matchmaker: all the intrigue of love.

Copyright secured by Digiprove
Acknowledgements: All book cover artwork and all text g more...
All Rights Reserved