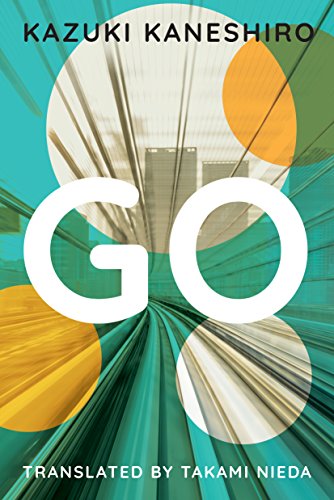 GO: A Coming of Age Novel
by Kazuki Kaneshiro, translated by Takami Nieda
★★★★★
Will you pretend to be one of them? Do you care?
Can you hide in plain sight behind a name you were asked to assume? But perhaps you don't care about passing; you'd rather duke it out and literally beat down all challengers. Until you meet a certain someone who assumes you are Japanese… Maybe it's time to choose. Do you take the chance?
This novel is so much better than I was expecting from the sample. While it has a slow start, it's actually a very fast, engrossing read. GO is a wonderful slice-of-life novel that its description just doesn't do justice at all.  This is not a romance; it's a journey to adulthood and self-identity. I finished it incredibly moved and reaching for the Kleenex box, fully intending to read it again. Note: It's a short novel at 172 pages.
GO shows us a young man growing up as a Korean in Japan. Embodying Koreans in Japan. Enduring racism, forced to carry IDs, request permission to re-enter the country, and labeled as foreigners, even though they were born and raised in Japan and share the same DNA and genetic markers. Looked down upon, barred from certain jobs, attacked without provocation, judged… A place where students crowd outside their school on a "Korean hunt" waiting to beat them up because it's April 29th, and somehow Emperor Showa's birthday reminds the Japanese students that Koreans are the "enemy."
Sugihara/Lee is fighting his father, his culture, and his country with his fists, with his intellect, and with every fiber of his being for the right to be himself, not defined by others, by paperwork, or by his blood. Can the one girl he shares so much in common with find it in her heart to accept that he's still the same person she loves, even if his name is actually Korean and not Japanese?
Great book and well worth the read!
I read Go by Kazuki Kaneshiro as a First Reads (Kindle First) February 2018 offering.
Book description
For two teens, falling in love is going to make a world of difference in this beautifully translated, bold, and endearing novel about love, loss, and the pain of racial discrimination.
As a Korean student in a Japanese high school, Sugihara has had to defend himself against all kinds of bullies. But nothing could have prepared him for the heartache he feels when he falls hopelessly in love with a Japanese girl named Sakurai. Immersed in their shared love for classical music and foreign movies, the two gradually grow closer and closer.
One night, after being hit by personal tragedy, Sugihara reveals to Sakurai that he is not Japanese—as his name might indicate.
Torn between a chance at self-discovery that he's ready to seize and the prejudices of others that he can't control, Sugihara must decide who he wants to be and where he wants to go next. Will Sakurai be able to confront her own bias and accompany him on his journey?

Copyright secured by Digiprove
Acknowledgements: All book cover artwork and all text g more...
All Rights Reserved