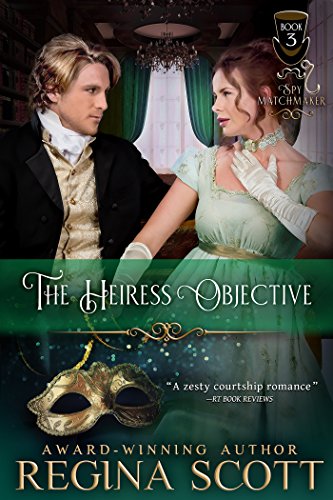 The Heiress Objective
by Regina Scott
★★★★★
What's a man to do for a little ready cash?
Okay, maybe it was more than a little money he needed. Make that two thousand pounds. Owed to a bounder who engineered the death of his brother. A man with honor and integrity would take care of his brother's debts and honestly confess that need to any heiress he might be thinking of marrying to help him pay it off. Kevin Whattling is up-front and honest with Eugennia Welch, and he's not hard on the eyes either. But when the bookish blue-stocking is approached by the villian of the piece, will she fall for his prevarications?
The Heiress Objective is a bit darker than the first book in this series, The Husband Mission, which I had read first. There's not as much humor, but it's a great addition to the series with really well-drawn characters and an enjoyable plot. I especially liked the various studies that the heroine pursued, and the fact that she was a strong woman who wasn't afraid to stand up to men, including the villian.
I'll be reading more from Regina Scott.
Book description
Wealthy Regency heiress Eugennia Welch is afraid to tell her bluestocking friends the truth: she secretly wishes a handsome prince would ride in and propose marring. When charming Corinthian Kevin Whattling does just that, she is stunned. He claims to have admired her for some time, but only came forward now because he must marry an heiress to discharge his debts. How can she believe anything he says?
Once one of the most successful intelligence agents among the aristocracy, Kevin Whattling gave up his commission when his younger brother was killed in an illegal boxing match. Now deep in debt, his only hope is to marry a wealthy wife. But as he tries to convince Jenny he is besotted, he finds himself falling under her spell. When a danger from Kevin's past threatens them both, they must trust each other to win a love far greater than any fortune.
This sweet traditional Regency romance was originally published as The Bluestocking on His Knee by Zebra.

Copyright secured by Digiprove
Acknowledgements: All book cover artwork and all text g more...
All Rights Reserved