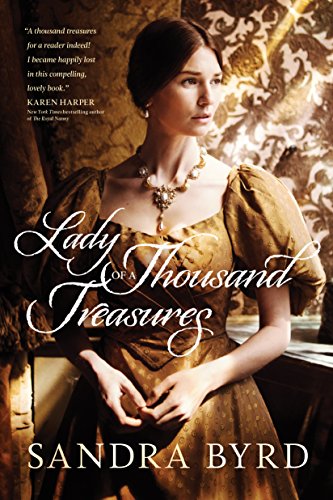 Lady of a Thousand Treasures
by Sandra Byrd
★★★★★
Who is the thief? Which is a man of honor?
Wonderfully complex and pleasing Victorian-era mystery! Eleanor Sheffield is an expert at recognizing forgeries, but can she discern who speaks the truth, who is manipulating her, and who is the true thief?  While desperately trying to keep her family's antiques firm afloat, care for an uncle with dementia, and provide for those who depend upon her, Eleanor must decide whether to donate an estate of a thousand treasures to a museum or allow it to remain with the previous owner's heir. She must discover the truth behind her directive and the letters from her former fiancé's father. Is Harry who she believes him to be or is he a womanizer taking advantage of her good will? Can she objectively choose justice while her heart is involved?
Even as Eleanor inventories the treasures, tracks down lost items, and puzzles over past events, she must keep her firm afloat, slowly selling the few family treasures that remain. While the debtor's prison looms over every decision, she strives to make her place in a man's world. Friends and mentors may not be able to save her. But perhaps someone else can.
Lady of a Thousand Treasures is a Victorian romance/mystery wrapped around snippets of history and antique collecting factoids and expertise, while sprinkled among the plotlines are historical figures and insights into a lady's place in society. Eleanor must overcome the prejudices of her time, use every bit of wit about her, and not lose herself to the poisonous lies of false friends. It's a road fraught with peril that threatens not only herself, but her loved ones.
While Eleanor strives to live by her Christian faith and it is an integral part of the story, it is woven into the storyline so deftly and unobtrusively that it makes it that much more believable. I have a prejudice against books where religion and scripture are a jarring, disruptive, and annoying intrusion, rather than a treasured, believable part of a character's life. The whole Christian element is done with such taste and style that I think even non-believers will find it consistent with the characters, true to the actors' era, and not "preaching" or in-your-face offensive.
Highly recommended for those who enjoy historical, Victorian, or Regency romances, clean romance, gothic novels, mysteries, and skilled storytelling.
I received this book as an Advanced Reader Copy (ARC) from the publisher through NetGalley. My opinions are my own.
Book description
Miss Eleanor Sheffield is a talented evaluator of antiquities, trained to know the difference between a genuine artifact and a fraud. But with her father's passing and her uncle's decline into dementia, the family business is at risk. In the Victorian era, unmarried Eleanor cannot run Sheffield Brothers alone.
The death of a longtime client, Baron Lydney, offers an unexpected complication when Eleanor is appointed the temporary trustee of the baron's legendary collection. She must choose whether to donate the priceless treasures to a museum or allow them to pass to the baron's only living son, Harry—the man who broke Eleanor's heart.
Eleanor distrusts the baron's motives and her own ability to be unbiased regarding Harry's future. Harry claims to still love her and Eleanor yearns to believe him, but his mysterious comments and actions fuel her doubts. When she learns an Italian beauty accompanied him on his return to England, her lingering hope for a future with Harry dims.
With the threat of debtor's prison closing in, Eleanor knows that donating the baron's collection would win her favor among potential clients, saving Sheffield Brothers. But the more time she spends with Harry, the more her faith in him grows. Might Harry be worthy of his inheritance, and her heart, after all? As pressures mount and time runs out, Eleanor must decide whom she can trust—who in her life is false or true, brass or gold—and what is meant to be treasured.

Copyright secured by Digiprove
Acknowledgements: All book cover artwork and all text g more...
All Rights Reserved