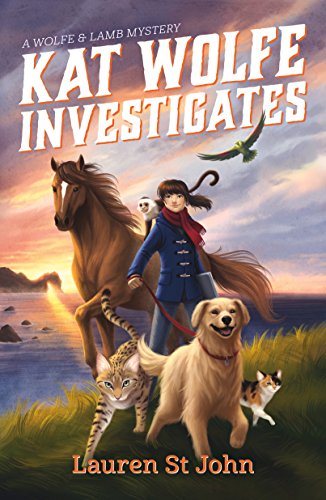 Kat Wolfe Investigates
by Lauren St. John
★★★★★
Can Kat and Harper catch a spy?
Fast, fun, engaging read with a great mystery and strong characters. Kat's mom is an overworked, underappreciated vet who barely has time for her daughter. When circumstances lead her to quit on the very day their apartment is burglarized while Kat is home alone, Dr. Wolfe takes the opportunity to look for her dream job where she'll have veterinary work she can feel passionate about again, reasonable hours, and more time and happiness to share with Kat. Little does she know that her choice will lead them both to a supposedly quiet and idyllic seaside town, a vet practice with some very strange customers, a reunion with deliberately lost family, and an international mystery complete with spies and multiple murders.
Kat is quite taken with their new town, new house, and new pet, Tiny, a large F1 Savannah. It will take all of Kat's animal whispering skills to befriend the cat, and she relishes the challenge. But she has hardly started when she is sidetracked by the first customer of her pet-sitting business disappearing. It's up to Kat and her new friend Harper to uncover what's happened with Ramon, because no one else believes them, not even the police chief. Harper has been sidelined since she fell off her horse, the Pocket Rocket, and broke both her legs. Harper partners with Kat, lending her hacking to the mystery. Can they find Ramon and solve the mystery of the Ghost Owl?
There is so much to love in Kat Wolfe Investigates. There are strong female characters, strong adult characters with brains (so rare in books these days), redemption, spies, and decently realistic kid hackers. I loved that all the characters had their own unique voice, skills, and each did heroic deeds in their own way. This might have read "it takes a village to solve a mystery." I also loved that the kids and adults supported and cared about each other so much. The mystery was intelligent, well-plotted, and had a James-Bond feel that will appeal to a wide audience.
Highly recommended for middle-schoolers, parents, and those who love middle-school fiction, as well as mysteries, spy novels, and animals.
I received this book as an Advanced Reader Copy (ARC) from the publisher through NetGalley. My opinions are my own.
Book description
When twelve-year-old Kat Wolfe starts a pet-sitting agency, she soon finds herself unraveling a mystery, in this first book of a new middle-grade series from award-winning author Lauren St. John.
After a break-in at their London home, Kat Wolfe and her veterinarian mum decide it's time to move to the country. Dr. Wolfe's new job on England's Jurassic Coast comes with a condition: They have to adopt Tiny, a huge Savannah who resists Kat's best attempts at cat whispering. Kat starts a pet-sitting agency to make pocket money, but then the owner of her first client, an Amazon parrot, vanishes from his gadget-filled mansion. Only one person shares Kat's conviction that he's the victim of foul play: Harper Lamb, an American girl laid up with two broken legs thanks to her racehorse. Kat and Harper team up, but what starts out as mystery-solving fun turns deadly for the duo. When all clues point to a nearby army base, can they count on their unruly animal friends to save the day—and their lives?

Copyright secured by Digiprove
Acknowledgements: All book cover artwork and all text g more...
All Rights Reserved