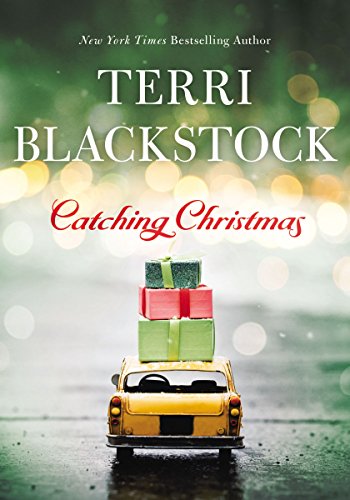 Catching Christmas
by Terri Blackstock
★★★★★
Why didn't the crazy old lady take an Uber?
Catching Christmas is a sweet, poignant cab ride through the last few days before Christmas, as Callie commandeers Finn's cab, time, and heart. Finn's got some major regrets going over his actions around the death of his mom and he's not about to be found wanting again. He'll make this cab ride work if it's the last thing he does. Callie Beecher needs a ride to the doctor's office, the mall, the bank, and a few dozen other places, as she shops through the last few days, seeking Christmas presents and a date for her granddaughter.  Finn's a bit short on cash, Callie's a bit short on remembering to pay, and Sydney's more than a bit short on nice bosses and grateful clients. Together, they're going to make this a Christmas to remember.
Catching Christmas reads almost like a comedy of errors as Callie, willfully or not, keeps Finn at her beck and call despite his protestations and best intentions. Is Callie crazy? Has she any inkling of the havoc she's wreaking in Finn's life? Does she know he'd really like to be able to pay his rent? Does she care? Weaving the life of a cab driver with commentary on eccentric passengers, Uber, the harsh life of newly minted lawyers, and the pain of losing loved ones, this is a story that will have you running for the Kleenex box as you ricochet from one laugh into the next heartfelt moment.
Love, family, and the kindness of strangers snowball as three lonely people slide toward a Christmas none of them will ever forget.
Highly recommended for those who love sweet Christmas tales, happily ever afters, and clean romance.
I received this book as an Advanced Reader Copy (ARC) from the publisher through NetGalley. My opinions are my own.
Book description
This Year, Christmas Comes Just in Time
As a first-year law associate, Sydney Batson knows she will be updating her resume by New Year's if she loses her current case. So when her grandmother gets inexplicably ill while she's in court, Sydney arranges for a cab to get her to the clinic.
The last thing cab driver Finn Parrish wants is to be saddled with a wheelchair-bound old lady with dementia. But because Miss Callie reminds him of his own mother, whom he failed miserably in her last days, he can't say no when she keeps calling him for rides. Once a successful gourmet chef, Finn's biggest concern now is paying his rent, but half the time Callie doesn't remember to pay him. And as she starts to feel better, she leads him on wild-goose chases to find a Christmas date for her granddaughter.
When Finn meets Sydney, he's quite sure she's never needed help finding a date. Does Miss Callie have an ulterior motive, or is this just a mission driven by delusions? He's willing to do whatever he can to help fulfill Callie's Christmas wish. He just never expected to be a vital part of it.

Copyright secured by Digiprove
Acknowledgements: All book cover artwork and all text g more...
All Rights Reserved