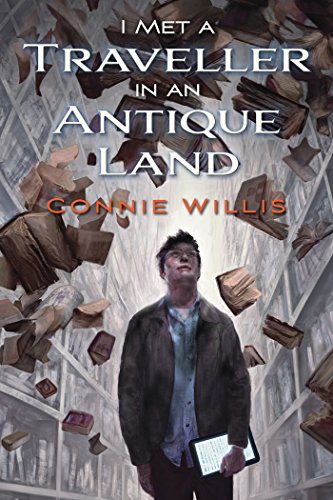 I Met a Traveller in an Antique Land
by Connie Willis
★★★★★
Look on my Works, ye Mighty, and despair!
Connie Willis has a way of writing stories that engage us but more importantly that capture the complexity and conflict in defining moments and force us to resonate with their emotional impact. I Met a Traveller in an Antique Land is a call to feel, to be moved, to understand, even to act. It's difficult for an author to capture such depth in a short work, but Ms. Willis succeeds. This parable of Ozymandias' Bookstore probably means most to those of us who stand astride the bridge of change in this transitional generation with one foot planted on the side of our love for physical books and the other sole braced in our acceptance of the convenient, yet vulnerable world of ebooks.
Ms. Willis is true to form. As I read I Met a Traveller in an Antique Land, I heard echoes of Willis's other works: the despair from Lincoln's Dreams, the hurried search through the maze-like corridors of Passage, the snatch-and-grab time-traveling of To Say Nothing of the Dog, and the tongue-in-cheek wit of Bellwether and Blued Moon.
If you've ever searched for a favorite book from your childhood to discover it's disappeared from the shelves of libraries and bookstores, you can really relate to this story. I know I conducted such a search and it took years of sporadic searches through Amazon, Alibris, etc., to find a stained and battered copy. There's currently one other copy of that book for sale on Amazon at the moment. It's never been digitized; I guess it wasn't popular enough. It's sad to think that there are so few copies of it out there in the world.
I received this book as an Advanced Reader Copy (ARC) from NetGalley. My opinions are my own. Liked it so much I pre-ordered it on Kindle for myself and as a hardback for a bestie. During the zombie apocalypse or in case of an EMP, I'll borrow her copy. 😉
Edited to add: Her copy showed up and it's a signed limited edition. I was wondering why it was so expensive. Why didn't they say so? Now I need to buy another copy of the physical book for myself!
Book description
Jim is in New York City at Christmastime shopping a book based on his blog—Gone for Good—premised on the fact that "being nostalgic for things that have disappeared is ridiculous." Progress decides for people what they need and what's obsolete. It's that simple. Of course, not everyone agrees. After Jim bombs a contentious interview with a radio host who defends the sacred technology of the printed, tangible book, he gets caught in a rainstorm only to find himself with no place to take refuge other than a quaint, old-fashioned bookshop.
Ozymandias Books is not just any store. Jim wanders intrigued through stacks of tomes he doesn't quite recognize the titles of, none with prices. Here he discovers a mysteriously pristine, seemingly endless wonderland of books—where even he gets nostalgic for his childhood favorite. And, yes, the overwhelmed and busy clerk showing him around says they have a copy. But it's only after Jim leaves that he understands the true nature of Ozymandias and how tragic it is that some things may be gone forever…
From beloved, multiple-award-winning, New York Times best-selling author Connie Willis comes I Met a Traveller in an Antique Land, a novella about the irreplaceable magic of books.

Copyright secured by Digiprove
Acknowledgements: All book cover artwork and all text g more...
All Rights Reserved