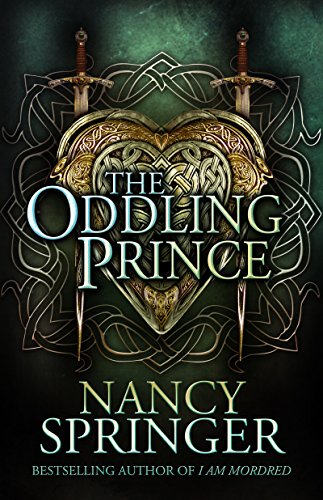 The Oddling Prince
by Nancy Springer
★★★★★
Nancy Springer has still got it!
The Oddling Prince is a wonderfully fantastic story of two brothers. One, Aric, has been raised as the king's heir; the other, Albaric and son of the Queen of Elfland, has been lost to memory. The King of Calidon is cursed with a ring that he cannot remove that sickens him, and he's unable to eat or drink. As he lies on his deathbed, Albaric appears to aid him. Aric and Albaric are immediately bonded, brothers inextricably drawn to each other, adoring each other. Yet the King has no memory of his time in Elfland or loving and teaching Albaric as he grew.
Wound through the story are songs and the myth of the White King. As the King recovers his health, his soul seems wounded as he changes from a kind and just king to a hateful, violent tyrant. As the violence escalates, the kingdom withers, and an old enemy resurfaces. Can Aric and Albaric save their father and the kingdom?
If you love classic fantasy and rich nuanced storytelling, you'll love The Oddling Prince. The story is superb, the writing glorious, the world-building subtle and immersive, and the characters are complex. A very satisfying read and an instant reminder of why Nancy Springer is one of the best fantasy writers ever, up there with Diana Wynne Jones, Brandon Sanderson, and the other greats. So glad she came out of "retirement" to gift us another soul-searching read.  Highly recommended.
If you haven't read any other Nancy Springer books, you owe it to yourself to grab some of her other series and start reading. You'll be glad you did.
I received this book as an Advanced Reader Copy (ARC) through NetGalley. My opinions are my own.
Book description
In the ancient moors of Scotland, the king of Calidon lies on his deathbed, cursed by a ring that cannot be removed from his finger. When a mysterious fey stranger appears to save the king, he also carries a secret that could tear the royal family apart.
The kingdom's only hope will lie with two young men raised worlds apart. Aric is the beloved heir to the throne of Calidon; Albaric is clearly of noble origin yet strangely out of place.
The Oddling Prince is a tale of brothers whose love and loyalty to each other is such that it defies impending warfare, sundering seas, fated hatred, and the very course of time itself. In her long-awaited new fantasy novel, Nancy Springer (the Books of Isle series) explores the darkness of the human heart as well as its unceasing capacity for love.

Copyright secured by Digiprove
Acknowledgements: Book cover art and text given under t more...
All Rights Reserved