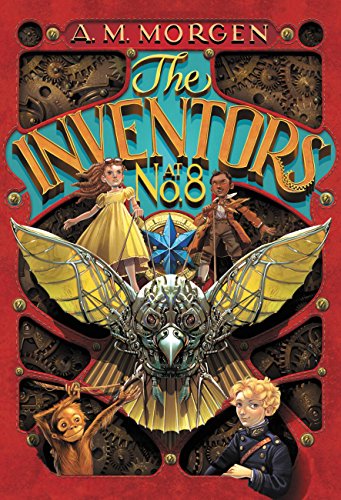 The Inventors at No. 8
by A. M. Morgen
★★★★★
Can George change his luck?
The first few paragraphs of The Inventors at No. 8 sweeps aside a family – and several servants – in a one-day streak of bad luck that spares only the third Lord Devonshire (George to his friends) and one elderly manservant.  The storyline feels like a mashup of A Series of Unfortunate Events and Artemis Fowl in some ways. It's a quirky bad-luck-strewn steampunk romp through a bygone era, as George teams up with Ada, the daughter of Lord Byron, and Oscar, the son of a famous pirate, to recover his family's stolen treasure. It's a huge step for George as he's pretty much agoraphobic trying to keep his bad luck from sucking in any more victims. In addition to finding his family's missing treasure, the trio are also searching for Ada's and Oscar's fathers.
Despite all the bad things that keep happening, underneath it all, George is hopeful and struggles to keep trying. George has to overcome his fears and not inconsiderable bad luck as he, Ada, Oscar, and an orangutan adventure across Europe meeting both inspiring and threatening characters along the way. Ada uses her inventions, which include a flying machine, to help them on their journey. Her character, and that of Oscar, are integral to George's success . The Inventors at No. 8 is an exciting story that celebrates intelligence, independence, science, and perseverance. Incredibly, some of the most interesting aspects are borrowed from real life. I think it'd be a plus if that info was in the front material, rather than an author's note after the book. I think it'd be fun to guess which inventions and events were real versus those the author imagined.
A fun enjoyable read, The Inventors at No. 8 is a tale about being brave, taking chances, friendship, family, and much more. Lots of pondering material and good conversation starters here in addition to just being quirky and fun!  Highly recommended.
I received this book as an Advanced Reader Copy (ARC) from the publisher through NetGalley. My opinions are my own.
Book description
Brimming with mystery and treasure, this action-packed tale sends a boy in need of luck and girl in need of a friend on an adventure that will change their lives forever.
Meet George, the third Lord of Devonshire and the unluckiest boy in London. Why is George so unlucky? First, he's an orphan. Second, unless he sells everything, he's about to lose his house. So when his family's last heirloom, a priceless map to the Star of Victory (a unique gem said to bring its owner success in any battle) is stolen by a nefarious group of criminals, George knows that there is no one less lucky–or more alone–than he is.
That is until Ada Byron, the future Countess of Lovelace, bursts into his life. She promises to help George recover his family legacy, and is determined to find her own father along the way–all in a flying machine she built herself. Joined by a mischievous orangutan and the long-lost son of an infamous pirate, Ada and George take off on a cross-continent journey through the skies that will change their lives, and perhaps the world, forever.

Copyright secured by Digiprove
Acknowledgements: All book cover artwork and all text g more...
All Rights Reserved