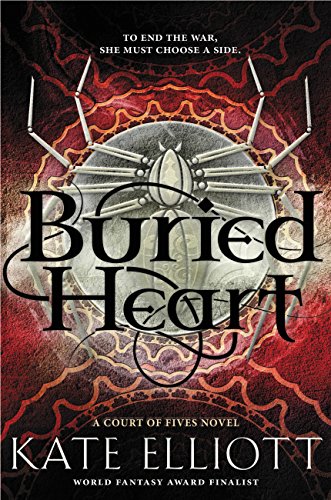 Buried Heart
by Kate Elliott
★★★★★
Dark, complex, compelling
Wow! If you liked the first two books in the Court of Five series, you're going to love Buried Heart. Gritty and heart-wrenching in many ways. Buried Heart is a great continuation of Court of Fives and Poisoned Blade.  (If you haven't read the first two books, go grab them and read them first.) Great writing, complex and original ideas, and a romance that doesn't overshadow everything else but is a realistic force behind our heroine's decisions. The world-building is absolutely phenomenal.
Racism, colonialism, class divides, and family loyalties are compelling twined through Kate Elliot's Court of Fives saga. Buried Heart just keeps turning up the heat as Jessamy continues her complicated relationships with Kalliarkos, her father, her mother, and sisters. The story, situations, and choices will leave you thinking long after you close your book.
This is a very satisfying conclusion to the Court of Fives series. My only wishes don't have to do with the book itself: I want to witness a Fives competition in real life (I wouldn't want to be an adversary as I'd break my neck) or commandeer my own spider. Yeah, that spider would take care of rush hour traffic.
Book description
Choose between your parents.
Choose between your friends.
Choose between your lovers.
Choose who you are.
On the run from the murderous King Nikonos, Jessamy must find a way for her beloved Kalliarkos to take his rightful place on the throne. Only then can he end the oppression of the Commoners by their long time Patron overlords. But Kal's rise to power is fraught with manipulation and shocking decisions that make Jes question everything they promised each other. As their relationship frays and Jes's family and friends beg her for help, will she cast Kal and her Patron heritage aside? Will she finally join–even lead–the rebellion that had been burning among the Commoners for years?
This explosive finale of World Fantasy Award finalist Kate Elliott's Court of Five series forces Jessamy to confront an inescapable truth: with or without her, the revolution has begun.

Copyright secured by Digiprove
Acknowledgements: All book cover artwork and all text g more...
All Rights Reserved