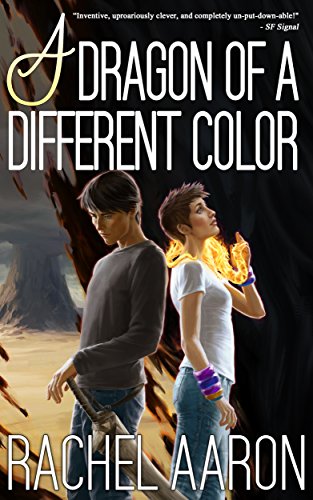 A Dragon of a Different Color
by Rachel Aaron
★★★★★
More of our favorite nice dragon… and Bob.
Rachel Aaron hits it out of the ballpark again with our favorite nice dragon. If you've enjoyed the previous books, you'll love this continuation. (If you haven't read the previous books, start with Nice Dragons Finish Last.)
Aaron serves up more twisty plots, more Julius and Marcy (death becomes her), more Amelia, and more Bob. Throw in the Raven, a few Mortal Spirits, a Golden Emperor annexing the Heartstriker clan, and Chelsea on fire to protect her 21 children… well, it just gets deeper and better. Awesome world-building, complex and believable characters.
Pros: Fantastic writing, plotting, and characters creating a enjoyable story that just flows. Think Fred Astaire making dancing look easy.
Cons: Waiting until next year for the conclusion.
Rachel Aaron remains one of my favorite authors and on my "must pre-order" list. Think I'll go back and re-read The Legend of Eli Monpress.
Updated: I didn't make it to Eli Monpress; I had to turn around and read A Dragon of a Different Color again. So many cool scenes and some truly heart-tugging (striking?) moments. So much Bob!  So hard to write a review about such an awesome book and not have spoilers.
Book description
To save his family from his tyrannical mother, Julius had to step on a lot of tails. That doesn't win a Nice Dragon many friends, but just when he thinks he's starting to make progress, a new threat arrives. Turns out, things can get worse. Heartstriker hasn't begun to pay for its secrets, and the dragons of China are here to collect. When the Golden Emperor demands his surrender, Julius will have to choose between loyalty to the sister who's always watched over him and preserving the clan he gave everything to protect.

Copyright secured by Digiprove
Acknowledgements: All book cover artwork and all text g more...
All Rights Reserved