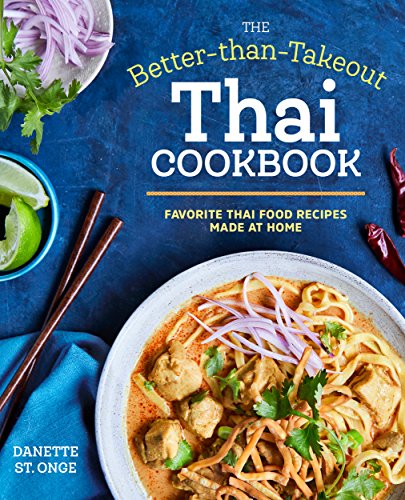 The Better Than Takeout Thai Cookbook
by Danette St. Onge
★★★★★
Wonderful cookbook for Thai food lovers!
We love Thai food, absolutely adore it. It's one of our weaknesses when it comes to eating out. 90% of the time, we are going to eat Thai.  We also cook Thai quite a bit and have for almost 20 years, and we own several good Thai cookbooks. Being addicted to good Thai, I had to give the Kindle ebook version of this cookbook a try. Surprisingly, it's very well-formatted for a Kindle cookbook and very easy to read. (I say surprisingly, as I've deleted several Kindle cookbooks as unusable simply due to their format. It's a rather common problem.) The Better Than Takeout Thai Cookbook has colors that work well, the font size and contrast on the colored blocks is also good. The pictures are crisp and hunger-inducing. I'm not sure why another reviewer only saw one letter per line, as my copy displayed correctly, at full-page width; that said, I was using this on a Kindle Fire tablet. They may have been using a true Kindle ereader.
After reading the entire introduction, ingredient and tool explanations, and over half of the recipes, I was more than sold and jumped on Amazon to buy a print copy also (mostly because I can't seem to print from my tablet, and I prefer to read and mark off printed copies when I'm cooking. I think my Kindle Fire is just too old or I'm too old-school.)
I absolutely adore this cookbook already. While I have some excellent Thai cookbooks with good ingredient, kitchen tools, and recipe tip sections, this one is probably the very best. Each seasoning is discussed: what it is, how to store it, how to substitute for it (or when not to substitute, but leave out altogether), etc. I've learned a few new things already, such as not to substitute ginger for galangal/kha. While I normally use galangal and usually keep some frozen, I don't always have it and didn't consider that ginger would change a dish too much. The tips  are repeated on recipes where they're needed, so no worries on missing important information.
The ingredient and tool info seems like every hint from every Thai cookbook that I have plus that from chats with restaurant owners all put together in one easy reference. There's such useful info as changing the ratio of ingredients as some restaurants allow changes the balance of textures and flavors away from the Thai origin dish. That seems common sense, and yet it isn't (or wasn't for me, anyway; I had to be pointed down the straight and narrow by a restaurant owner). There's info on various ways to rinse rice, what to substitute for coriander root, fish sauce, kaffir lime leaves, etc. This info is incredibly useful for us cooks who can't consistently get all the ingredients.
The recipes themselves seem very complete, the ingredients are along the lines of those I know from our local Thai restaurants and recipes I have already and use on a regular basis. I am always drawn to recipes that are similar to what restaurants make because that is what we are used to and expect from Thai food. Rather unoriginally, I guess, I am always trying to get recipes to match our favorite dishes from our favorite restaurants. I sometimes have to modify more authentic Thai recipes, such as that from Thai regional cookbooks , so they'll taste more like that from Thai restaurants, yet I don't want them more Americanized than from my local Thai eateries.
I'm looking forward to using this cookbook and its hard-copy version to recreate our favorite Thai dishes. I expect to add nuances to our current repertoire, add new dishes, and add some of our favorite dishes that we didn't have recipes for yet. If my judgement from reading this cookbook holds true, we're going to be some very happy cooks. I will update this review if this doesn't hold true, and I might update it if it does. But don't hold your breath if this cookbook is as good as I believe it is, because I'll be in the kitchen cooking.
Book description
A Thai Cookbook for Making Your Favorite Thai Dishes in the Time It Takes to Order Takeout
There are few cuisines that harness the balance of sweet, sour, salty, bitter, and spicy flavors better than Thai. Yet when it comes to enjoying Thai food at home, most think their only option is takeout. However, with only a few key ingredients and basic techniques, you can cook quick, delicious Thai meals that the whole family will love.
From the kitchen of her family's Thai restaurant to her mother's homemade Thai food, Danette St. Onge knows how to make Thai food accessible to anyone with the right ingredients, a little time, and a reliable Thai cookbook (hint: it's this one!). In The Better-Than-Takeout Thai Cookbook, Danette makes it simple to try new ingredients and learn essential techniques.
As you work your way through this Thai cookbook, you'll become more comfortable with the fundamentals of Thai cooking. The clear explanations and tried-and-true recipes offered in The Better-Than-Takeout Thai Cookbook make it easier than ever to create your favorite Thai dishes.
With The Better-Than-Takeout Thai Cookbook, you'll find:
More than 100 recipes that can be made in under an hour—most requiring just 30 minutes or less
Tons of tips for saving time with easy-to-find ingredients, plus recipes for making staples like curry pastes at home
Menus and instructions for how to prepare multiple dishes simultaneously—because no one orders just one dish for takeout
You'll enjoy the Thai dishes you love without the hassle of waiting for overpriced delivery with The Better-Than-Takeout Thai Cookbook.

Copyright secured by Digiprove
Acknowledgements: All book cover artwork and all text g more...
All Rights Reserved