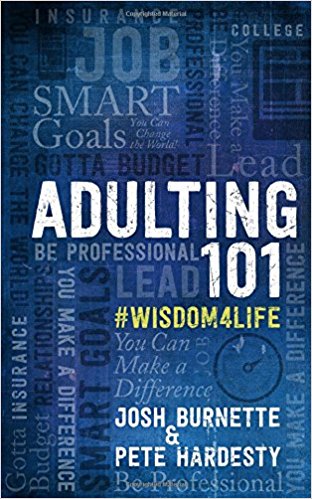 Adulting 101
By Josh Burnette and Pete Hardesty
★★★★★
Can you ever have too much good advice? NOPE!! I wish someone had told me…

…some of these things before I left for college. I would have had less financial trouble in front of me and more good decisions behind me. Know anyone that you wish could skip common life mistakes? I've already made a mental list of three college-aged young people that are going to be gifted with this book; my daughter is one of them. Edited to add: scratch that. I just got these books and realized that three is not enough; I keep thinking of more young adults who would benefit from them!
Adulting 101 is like every piece of helpful advice someone could get from wise parents, uncles and aunts, grandparents, and financial advisors compacted into one book. It has reams of practical, useful advice on a wide array of subjects from how to dress for a job interview and how to get the best deal for a car to deciding between renting an apartment or buying a house. There's advice on relating to others, being a good leader, investing, and so much more that would be boring for me to actually list it all out. (Check out the table of contents.) There's not a lot of fluff. Okay, there's not ANY fluff.
I think it'd be awesome if this book was required reading for high school juniors or seniors. There are some things where everyone is better off if we don't have to learn it the hard way.
My only complaints about this book are that 1) the info is so dense, the lists could have been broken up more into sections with easy-to-find headings or indexed, and 2) the appendices have so much good information, they should have been included as part of the book itself, since so many people ignore appendices. I'd hate for anyone to miss the advice in the appendices that is not replicated in the body of the book itself.
Heads-up, this is a Christian book, although that only crops up in a couple of sections, and the advice in Adulting 101 is valid no matter one's creed or religion. No advice is invalidated by that context. I just mention that for the sake of those who find it unacceptable to come into contact with anything remotely touching upon Christianity.
I received this book as an Advanced Reader Copy (ARC) from the publisher through NetGalley. My opinions are my own.
Book description
Adulting (verb): To do grown-up things and have responsibilities such as a working full time, paying rent, or owning a car.
Basic life skills go mostly untaught in classrooms, so graduates are on their own to figure out how to live successfully in the world. Without any guidance, where do you start? Adulting 101 is a clever, practical, and timely guide to show how to:
– Find a job and be wildly successful at work
– Buy the items you need as an adult (apartment, car, insurance)
– Set goals, prioritize, and get work done
– Communicate professionally and effectively
– Save and invest wisely
– Navigate personal and professional relationships
– Avoid the common mistakes of being out on your own
– And much, much more
This book will give you what you need to succeed and make a real impact, inspiring you to change the world and be the person you were meant to be.

Copyright secured by Digiprove
Acknowledgements: All book cover artwork and all text g more...
All Rights Reserved