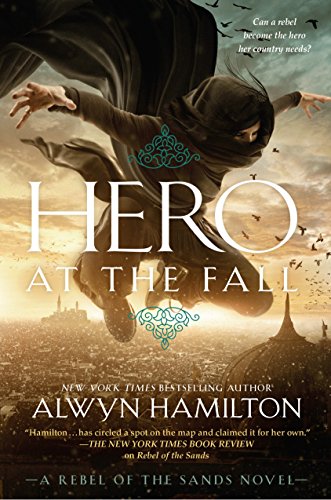 Hero at the Fall
by Alwyn Hamilton
★★★★★
What a ride! Be careful what you wish for…
a Djinni may grant it. What an epic conclusion! Alwyn Hamilton is an incredible writer who weaves intense action with personal peril, overarching themes of what it is to be human – and not human, the lengths humans, Demdji, and Djinn will go for love and loyalty. Her prose varies from the intensely personal to a mythological storyteller looking back through the ages at the present day. In all that she engages us in the peril, the heartache, and the risk while she whips us about with dust and sand that rips our hearts apart.
This is a truly satisfying conclusion, but be prepared with a box of Kleenex, true love does not end with a kiss, and while many died in book 2, there are those we care about in book 3 who will live on only in memory. Prisoners are freed, traitors redeemed, lives won and lost, and the kingdom trembles in the balance. What is the price of triumph?
Myths are re-written, heroes resurrected, cities discovered and lost, Djinn released from the imprisonment of millennia. Move aside or join the cause; legends walk among us as new stories are indelibly etched on the collective memory of a nation.
If you love Brandon Sanderson, Connie Willis, Louis McMaster Bujold or any of the other science fantasy greats, you will love Hero at the Fall. Highly recommended. If you haven't read the other books in this series, this is not a standalone novel; start with Rebel of the Sands. You'll be glad that you did!
Book description
The breathless finale to the New York Times bestselling Rebel of the Sands series will have you on the edge of your seat until the dust from the final battle clears!
When gunslinging Amani Al'Hiza escaped her dead-end town, she never imagined she'd join a revolution, let alone lead one. But after the bloodthirsty Sultan of Miraji imprisoned the Rebel Prince Ahmed in the mythical city of Eremot, she doesn't have a choice. Armed with only her revolver, her wits, and her untameable Demdji powers, Amani must rally her skeleton crew of rebels for a rescue mission through the unforgiving desert to a place that, according to maps, doesn't exist. As she watches those she loves most lay their lives on the line against ghouls and enemy soldiers, Amani questions whether she can be the leader they need or if she is leading them all to their deaths.

Copyright secured by Digiprove
Acknowledgements: All book cover artwork and all text g more...
All Rights Reserved