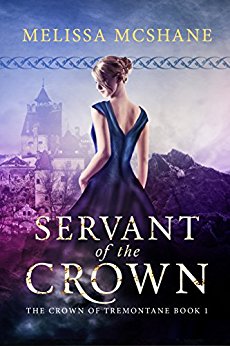 Servant of the Crown
★★★★★
He's no Prince Charming, but then again, she's not a brainless beauty…
Servant of the Crown
turns a trope on its ears. What happens when the beautiful girl knows she's beautiful (let's face it, she's got a mirror), but hates the way men treat her? They can't see beyond the beauty and fortune to the intelligent woman who prefers working in her father's publishing house to dancing about with a handsome prince. Alison Quinn, Countess of Waxwold is just a bit miffed at the male of the species. And unfortunately for him, Prince Anthony is everything she despises: a weak, drunken wastrel who lavishes her with compliments and lets his eyes and hands rove a little too freely. Alison slaps perhaps a bit too freely and publicly and thus our stage is set. What is a man-hater to do about enforced time spent with a renowned womanizer?
At first, it feels as if Alison complains too much about how men treat her, but it really gives you a feel for how annoying it is to have constant attention lavished on one for something that's an accident of birth. And, as Alison, says there is something selfish about a man insisting he has the right to compliment a woman. "You say what women want to hear," she said, "but you do it with a kind of possessiveness, as if a woman's beauty belongs to you and it's your right to say anything you like about it. It was never about me. It was always about you."
If Anthony can look beyond the beauty to find a bright scholar in love with books, libraries, and the theater, can he find himself? Is there more to him than gambling, womanizing, and racing? He'll have a chance when beyond the political maneuverings on the ballroom floor, a power struggle threatens to destroy something Alison cannot allow: the library.
McShane creates strong female leads who ask the world to accept them as they are. If you enjoy complex, well-rounded characters, unique and believable world-building, and good writing, you'll really enjoy McShane's novels. I've enjoyed everything I've read so far including the Extraordinaries series, Convergence series, The Smoke-Scented Girl, The God-Touched Man, and the Crown of Tremontane series.
Book description
Alison Quinn, Countess of Waxwold, is content with her bookish life—until she's summoned to be a lady-in-waiting to the Queen of Tremontane's mother for six months. Even the prospect of access to the Royal Library doesn't seem enough to make up for her sacrifice, but Alison is prepared to do her service to the Crown. What she's not prepared for is Prince Anthony North, Queen Zara's playboy brother, who's accustomed to getting what he wants—including the Countess of Waxwold.
When the fallout from an unfortunate public encounter throws the two of them together, Alison has no interest in becoming the Prince's next conquest. But as the weeks pass, Alison discovers there's more to Anthony than she—or he—realized, and their dislike becomes friendship, and then something more—until disaster drives Alison away, swearing never to return.
Then Alison is summoned by the Queen again, this time to serve as Royal Librarian. A threat to Tremontane's government, with her treasured Library at stake, draws Alison into the conflict…and into contact with Anthony once more. Can they work together to save the Royal Library and Tremontane? And can she open her heart to love again?

Copyright secured by Digiprove
Acknowledgements: All book cover artwork and all text g more...
All Rights Reserved