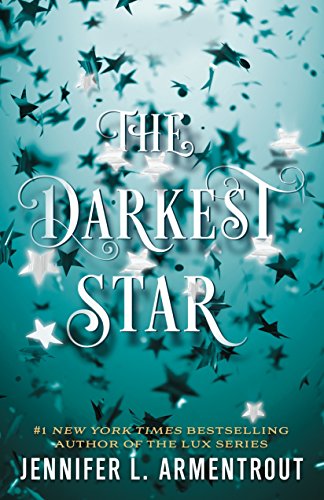 The Darkest Star
by Jennifer L. Armentrout
★★★★★
You had me at tacos!
Talk about a fun, frenetic read! I finished the story wanting to dive into the next book. While being a typical girl-meets-possible-alien sort of YA story, it's not that at all. Behind the wit and the fun, some serious social issues rear their heads. But to start: The Darkest Star has a true-to-life teenager vibe. Everyone knows that teens have a voice all their own and too many authors translate that into unlikeable snark. Not so for Jennifer L. Armentrout; her teens are funny, vibrant, likeable, and imminently relatable. Indeed, her heroine has a voice so self-analytical that it almost breaks the fourth wall on multiple occasions. From the moment she starts talking, Evie hits it home with unexpected commentary, such as "…she was eyeing Heidi like I eyed tacos on most days. That was what I wanted at some point in my life, for someone to look at me like I looked at tacos." And "That made me feel a little better, knowing I hadn't been kissed by a killer alien from outer space. It was the small things that made one's crappy life choices easier to deal with." When you hit Evie's comments in situ, they really pop. Just make sure you aren't drinking anything you can snort out your nose!
As the story starts, Evie allows herself to be talked into visiting a club using fake IDs by a bestie and that's when things really start to get strange for her and our mystery is off and running. There are plenty of aliens and hot guys at this club, but Evie's caught up in a raid even as she meets an enigmatic stranger who seems to know more about her than just her real name. Why do people seem to know her? Who is killing girls that look like her? Who is Luc?
The Darkest Star is not your typical YA scifi romance; it's elevated by nuanced writing, believable characterization, and unique world-building. Behind the teenage romance and mystery, there's commentary on police states, racism, loyalty, family, and what it means to be human, all woven expertly into an enjoyable story that entertains mightily, even while it opens the door for some really deep conversations. The characters aren't perfect and their flaws are believable. Major storylines are wrapped up satisfactorily, with no irritating cliffhangers.
From comments that I've seen, The Darkest Star takes place in a world that the author has already written books about; I'll have to take their word for it. That said, I haven't read any other books by this author and am not familiar with any of the characters.  This book is quite able to stand alone with nothing detracted. I will, however, be seeking out the author's other books because I enjoyed this one so completely.
Highly recommended. I received this book as an Advanced Reader Copy (ARC) from the publisher through NetGalley. My opinions are my own.
Book description
In the world of the Lux, secrets thrive, lies shatter, and love is undeniable.

#1 New York Times, USA Today, and internationally bestselling author Jennifer L. Armentrout brings her trademark drama and intrigue to a new romantic YA science fiction series with The Darkest Star. A girl pulled into in a world she doesn't understand finds herself confronted by long buried secrets, a betrayal that could tear her life apart…and Armentrout's most swoonworthy book boyfriend yet.
Seventeen-year-old Evie Dasher knows firsthand the devastating consequences of humanity's war with the aliens. When she's caught up in a raid at a notorious club known as one of the few places where humans and the surviving Luxen can mingle freely, she meets Luc, an unnaturally beautiful guy she initially assumes is a Luxen…but he is in fact something much more powerful. Her growing attraction for Luc will lead her deeper and deeper into a world she'd only heard about, a world where everything she thought she knew will be turned on its head…
At the Publisher's request, this title is being sold without Digital Rights Management Software (DRM) applied.

Copyright secured by Digiprove
Acknowledgements: All book cover artwork and all text g more...
All Rights Reserved