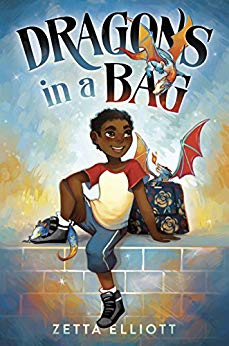 Dragons in a Bag
by Zetta Elliott
★★★★★
Dragons, dinosaurs, parallel dimensions, and Ma
Jaxon is trying to be brave and helpful for his mother, who's having a really bad day. Their landlord is trying to evict them, she has to be in court, and an old lady that Jaxon's never met, who is supposedly his grandma, makes his momma beg. It's not a great beginning, but Ma finally lets Jaxon in. It's not quite the visit Jax was expecting: Ma is NOT his grandmother, a mysterious box is moving itself around, and the squirrel knocking on the window would like to have a word.
Actually the squirrel would like Jax to feed whatever is in the box. Ma is a witch, dragon babies imprint on whoever feeds them, and sugar is not a good idea for dragon food. When Ma, impressed by Jax's knowledge, love of books, and his desire to learn, recruits him to help her take the dragons to the world where they'll be safe, things get complicated.  He's about to meet family he never knew he had, dragons his friend's little sister should not have let out of the box, and some very hungry predators.
Dragons in a Bag is a fun adventure story with a lot of good life lessons about the meaning of family, and the value friendship, bravery, perseverance, and more. There are also conversations starters for conservationism, environmentalism, imagination, open-mindedness, and forgiveness.
Quite a fun romp. Highly recommended for children who love adventure, mysteries, magic, and mayhem. I hope this is a start to a series!
I received this book as a digital Advanced Reader Copy (ARC) from the publisher through NetGalley. My opinions are my own.
Book description
When Jaxon is sent to spend the day with a mean old lady his mother calls Ma, he finds out she's not his grandmother–but she is a witch! She needs his help delivering baby dragons to a magical world where they'll be safe. There are two rules when it comes to the dragons: don't let them out of the bag, and don't feed them anything sweet. Before he knows it, Jax and his friends Vikram and Kavita have broken both rules! Will Jax get the baby dragons delivered safe and sound? Or will they be lost in Brooklyn forever?

Copyright secured by Digiprove
Acknowledgements: All book cover artwork and all text g more...
All Rights Reserved