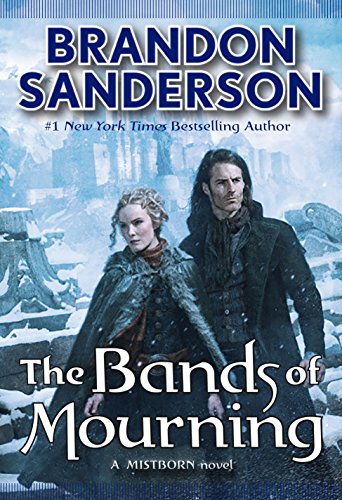 The Bands of Mourning
By Brandon Sanderson
★★★★★
Awesome book, great addition to Wax and Wayne storyline, best yet.
The Bands of Mourning: A Mistborn Novel is a great story in the Wax and Wayne Mistborn series. Sanderson is at his best balancing humor with a very serious storyline. A lot of plot lines are tied in and tied up, but this book definitely keeps some plot lines open and leading to the finale in The Lost Metal.
You've got to love Wax and Wayne at their best, but Steris and Marasi more than hold their own in The Bands of Mourning. Throw in MeLaan and you've got some great opportunities for fun, frantic action, and fulfilling character depth. Of all the characters in this novel, Steris benefits the most from character growth and detail, but Marasi does some growing as well. Now if Wayne would just grow up. Oh, wait, that would probably be a bad thing! There's something to be said for a little insanity.
The Bands of Mourning feels like the best novel in this Mistborn storyline yet… Sanderson's writing seems to somehow improve with every book. I'm left motivated to go back to the original Mistborn novels and re-read everything Sanderson's written to date. I was grumbling about the cost of the ebook for this, but I'm game for anything else that Sanderson writes. I find myself paying up whatever is asked to be allowed back in Sanderson's universes one more time and rationalize the cost against the ticket for a two-hour movie.
Make sure you read Mistborn: Secret History AFTER you read this book. It's more than awesome in its own right and a must-read for anyone who's following Cosmere.
Now I'm left waiting for The Lost Metal and hoping for more books about Cosmere and all of its heroes and gods. Write on, Mr. Sanderson!
Book description
Three hundred years after the events of the Mistborn trilogy, Scadrial is now on the verge of modernity, with railroads to supplement the canals, electric lighting in the streets and the homes of the wealthy, and the first steel-framed skyscrapers racing for the clouds.
The Bands of Mourning are the mythical metal minds owned by the Lord Ruler, said to grant anyone who wears them the powers that the Lord Ruler had at his command. Hardly anyone thinks they really exist. A kandra researcher has returned to Elendel with images that seem to depict the Bands, as well as writings in a language that no one can read. Waxillium Ladrian is recruited to travel south to the city of New Seran to investigate. Along the way he discovers hints that point to the true goals of his uncle Edwarn and the shadowy organization known as The Set.

Copyright secured by Digiprove
Acknowledgements: All book cover artwork and all text g more...
All Rights Reserved