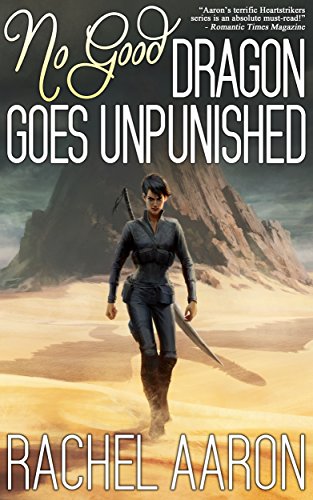 No Good Dragon Goes Unpunished
by Rachel Aaron
★★★★★
Incredible series, more of our favorite characters in twisty plots
Rachel Aaron's writing feels a lot like Brandon Sanderson's, but with a lot of quirky humor thrown in. And I mean that in the best twisty, plot-within-plot-within-meticulously-plotted-plot human-condition sort of way. Her series start out deceptively light, and as they twine on, the plots thicken and twist, even as the characterizations become deeper and more refined.
This book is a bit different than the first two; there's less humor and more plot points left hanging at the end of the book. That's not to say a lot of plot points aren't wrapped up and answers to questions given, because there are. It's just as the plot complexities multiply, some threads must continue on to the next book.
In No Good Dragon Goes Unpunished, Julius, the nicest dragon in question, stands his ground despite shyness, fear, manipulation, his mother, his brother, his other brother, broken bones, cuts and bruises, and a dragon flaming. Our nice dragon stares down death and refuses to budge from his principles, and we love him for it. Marci grows even more as a mage and love interest, Ghost, well, acts even more ghostly, Justin seems to have added several IQ points, Ian climbs the corporate/dragon ladder with finesse, Chelsie is Chelsier with a really cool backstory thrown in that fleshes her out in ways we didn't see coming, and Bob is, well, Bob. Throw in a few mages – dragon and human – for good measure and there's just a bit of tension brewing.
When you add in Bethesda – not the cuddliest of moms, Algonquin, giant slugs, a magical construct or two, and hundreds of Heartstriker dragons stuffed into one mountain fortress at the same time, well… the story just gets better and better as the tensions mount. While this book feels a bit slower-paced at times, there is just so much going on, that density is needed to support all the story threads deftly intertwining against the backdrop of Julius's efforts to drag the Heartstriker clan kicking, screaming, stabbing, and flaming into the current century.
The character who is revealed and grows the most in this book is probably Bethesda's Shade, Chelsie. She's also one who provides some of the biggest plot twists, as evidenced by the first-chapter flashback. Through the book, Bethesda is proven to be even more shallow, stubborn, prideful, short-sighted, and cold-blooded than we thought she was. We wonder how she birthed all these brilliant, complex characters, along with the niceness that is Julius. There is only one particular dragon who seems to take after his mother, so maybe Ms. Aaron is letting us know that for the  most part, Bethesda's shortcomings aren't genetic but pathological, or maybe she simply seldom breeds true. At any rate, the reader is left siding with the Heartstriker dragons who want to beat a few thick skulls against a wall or two.
A good read, very satisfying, although it does make you really wish the next book was already out! Rachel Aaron is on my must-buy/must-preorder list, as well as those of my friends and family. One of the best indie authors ever and worth every penny for her books. Ms. Aaron's at top of my favorite authors list, indie or major publishing house, right alongside Brandon Sanderson, Suzanne Collins, Kate Elliot, Louis McMaster Bujold, C.J. Cherryh, Connie Willis, etc. I'm so glad I gave her a try when one of her books was on sale!
If you haven't read Rachel Aaron's other books, go grab The Legend of Eli Monpress and start a new journey through this author's imagination. You're in for a treat! I just wish I could give myself amnesia, so I could read Ms. Aaron's books again for the first time.
Book description
When Julius overthrew his mother and took control of his clan, he thought he was doing right by everyone. But sharing power isn't part of any proper dragon's vocabulary, and with one seat still open on the new ruling Council, all of Heartstriker is ready to do whatever it takes to get their claws on it, including killing the Nice Dragon who got them into this mess in the first place.
To keep his clan together and his skin intact, Julius is going to have to find a way to make his bloodthirsty siblings play fair. But there's more going on in Heartstriker Mountain than politics. Every family has its secrets, but the skeletons in Bethesda's closet are dragon sized, and with Algonquin's war looming over them all, breaking his clan wide open might just be the only hope Julius has of saving it.

Copyright secured by Digiprove
Acknowledgements: All book cover artwork and all text g more...
All Rights Reserved