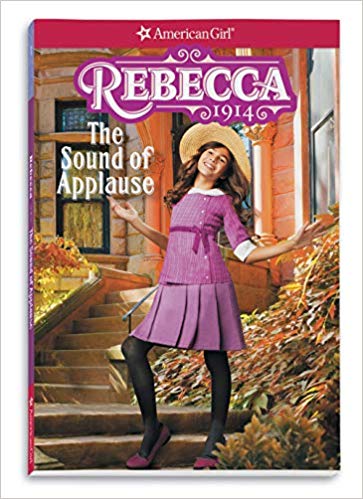 Rebecca: The Sound of Applause
by Jacqueline Greene
★★★★★

Sweet story about newly immigrants and their family
Rebecca's family has been in America long enough to be established and have a store that makes them a living. What happens when their family still in Russia is being persecuted and must flee for their lives? Rebecca is thrilled that she will now have a "twin," but before Ana can come to America with her family, Rebecca's family must raise money for their tickets.
There's so much history in this book, told in a very engaging and heart-touching way. Events are made personal and real by the way they twine through the lives of Rebecca and her family. There's a glossary in the back and a brief synopsis about the time in which Rebecca lived. This is a great living history story that will teach while entertaining. Highly recommended.
Book description
Rebecca Rubin was born for the stage. If only her very traditional family understood this! When her cousin Ana's family needs money to leave Russia, Rebecca puts on a sidewalk show, but all she earns is a scolding. Once Ana arrives in New York, Rebecca shares her room and her clothes and helps her cousin learn English. But when Ana is assigned to sing with her in a school program, Rebecca's heart sinks. Ana's Russian accent will ruin the show! Rebecca realizes her performance is one thing she does not want to share with her cousin. But how can she explain that to Ana?

Copyright secured by Digiprove
Acknowledgements: All book cover artwork and all text g more...
All Rights Reserved