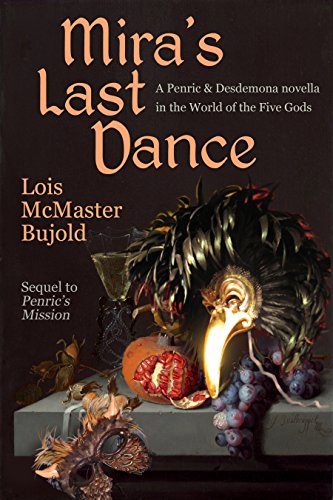 Mira's Last Dance
by Lois McMaster Bujold
★★★★★
Bujold's wit rides again
Mira's Last Dance: Penric & Desdemona Book 5 is the shortest Penric novellas so far, and yet it is in many ways the most enjoyable. It is a brief sojourn into the wit that Bujold displays in her Vorkosigan books, that sly gleam of humor as she leads us on a dance (pun intended) through innocence and innuendo, through discretion and distraction, and through male and female minds and female minds within male minds. It's a witty romp through dangerous territory as Mira, one of Desdemona's progenitors, plays with us and her victims as she veils and unveils, well, just about everything.
On one hand, this is an incredibly fun and witty comedy, on the other, a breathless tale of near misses and escapes. If you love Penric, Bujold, or fantastical fantasies, this is simply a must-read addition to  the Penric-Desdemona canon/cannon.
I received this book as an Advanced Reader Copy (ARC) through NetGalley. My opinions are my own.
Book description
*Updated Chronology! MIRA'S LAST DANCE is now Book 5 in the Penric & Desdemona series*
In this sequel to the novella "Penric's Mission", the injured Penric, a Temple sorcerer and learned divine, tries to guide the betrayed General Arisaydia and his widowed sister Nikys across the last hundred miles of hostile Cedonia to safety in the Duchy of Orbas. In the town of Sosie the fugitive party encounters unexpected delays, and even more unexpected opportunities and hazards, as the courtesan Mira of Adria, one of the ten dead women whose imprints make up the personality of the chaos demon Desdemona, comes to the fore with her own special expertise.

Copyright secured by Digiprove
Acknowledgements: All book cover artwork and all text g more...
All Rights Reserved