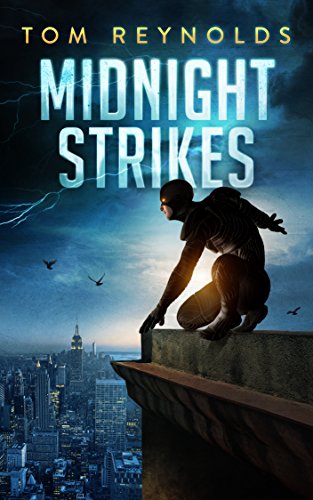 Midnight Strikes
by Tom Reynolds
★★★★★
Can Midnight find what was lost?
This novella is a great peek into the psyche of Midnight, letting us understand more about the legendary man who lived, worked, and fought with and against metahumans. Midnight is still searching for the device he used against Jones during the Battle, but lost in the mayhem. Midnight Strikes is action-packed and does a lot of character building and  fills in background mythology to the world of metahumans.
Midnight comes up against an organization that promises metahumans that they will regain their powers, that their bands still work. It's a cult that pulls in the friend of Midnight's new acquaintance, Amanda, also a former metahuman, who'll do anything to get her back. What's happening to the missing metahumans? Can Midnight divine the Receptive's true motives, free Amanda's friend, and locate the mysterious device that he lost?
Fun, fast, and unique.  Worth the read.
Book description
The world is still reeling from the devastation of the final battle between the world's strongest metahumans. Empire City has been left in shambles as it struggles to rebuild. Overnight, the world's metabands, mysterious bracelets that offer their owner's superhuman powers and abilities, have all ceased working. Guilt ridden over his possible hand in all of this, the masked vigilante Midnight has hung up his cowl.
Instead of fighting crime, he now spends his sleepless nights searching for clues to recover the device that might be responsible for all of it before it can fall into the wrong hands. Along the way he meets Amanda Khan, a teenage girl with a metahuman history in search of her missing friend. Both find the clues to what they're both searching for lead them to The Receptive, a secretive cult which offers a path to meta humanity to its most loyal followers and may just hold the answers to the missing device.

Copyright secured by Digiprove
Acknowledgements: All book cover artwork and all text g more...
All Rights Reserved