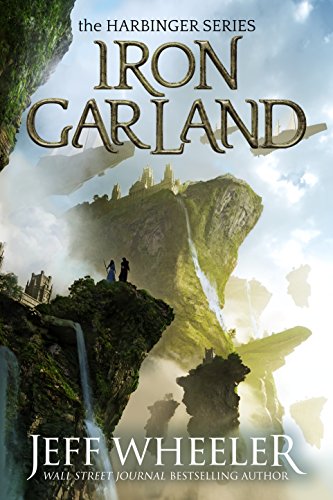 Iron Garland
by Jeff Wheeler
★★★★★
Evil stalks the land; Cettie and Sera must rise
What a rush! Iron Garland is an incredibly powerful continuation of Jeff Wheeler's Harbinger series. Cettie is now the Keeper of Fog Willows, and Sera is a virtual prisoner at Penhaven Sky. The two friends have been parted for the three years that have passed since the events in Mirror Gate. Iron Garland, book 3 in Jeff Wheeler's Harbinger series, opens with a triumphant Mr. Skrelling confronting the powerful parent of his beloved Cettie, Lady Corinne, with unintended results. Mr. Skrelling's discombobulation is a harbinger of the twisted paths all our favorite characters tread as the story unfolds with origami complexity. (Iron Garland is not a standalone novel, so if you haven't read the first two books, go read them and return to Iron Garland after.)
Cetti is firmly ensconced as Fog Willow's keeper and handles the negotiations and meetings revolving around the storm glass while Fitzroy leads the battle against the invaders. While the family depends upon her invention and acumen to keep the business afloat, Steven Fitzroy despises her. His sister, Phinia, resents her also. Whether this is jealousy due to Cettie's warm relationship with their father or her origin steeped in the poverty of Fells, it is a discontent that colors much of their interactions. Even as Cettie faces challenges with the Fitzroy's, her attention is divided by their new neighbors, Rand Patchett, and his sister, Joanna, and her visions of the future.
Sera, having being isolated by Lady Corrine at Penhaven Sky for three years, is eager to regain her freedom. Behind her compliant and obedient façade, she plots to further her plan to help the poor and reign with justice and parity. Opportunity finds her headed toward Kingfountain with a diminutive ally and a possible alliance that will strengthen her bid for her throne.
Wheeler polishes his craft with every book and Iron Garland is a twisty maze of a read, full of plots within plots, murderous mysteries, and feisty females unwilling to accept their assigned lot in life. Lots of strong characters, most of them female at the moment, believable characters with unique voices, and immersive world-building. Just another wonderful read.
Highly recommended for those who love fantasy, alternate historical fantasies, mysteries, and complex storytelling. The only downside to this book is that I have to wait for the next one. Off to read Kingfountain….
I received this book as a digital Advanced Reader Copy (ARC) from the publisher through NetGalley. My opinions are my own.
Book description
For three years, Sera Fitzempress has been a pawn in a gilded prison—the floating manor of Pavenham Sky. Disgraced and exiled from society, she has been isolated from the downtrodden she's determined to liberate. But although Sera may seem subservient on the outside, the stubborn princess has only become emboldened.
Now in charge of her family's estate, Cettie Pratt has grown into an independent young woman, although she continues to be tested by the high society of the clouds. Advancing in the magic of the Mysteries, Cettie is also a useful tool of defense during turbulent times. However, as more of Cettie's mysterious past comes to light, her greatest challenge may be a reckless stranger with a dark secret.
The fog of war is drawing in, and with it comes a startling new enemy who may unravel secrets that both women would prefer stay hidden. But their secrets may be the only way to stop the coming darkness…