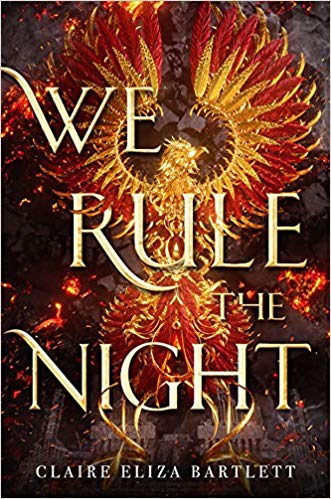 We Rule the Night
by Eliza Bartlett

★★★★★
What if you're everything the world doesn't want and everything it needs?

At the heart of this beautifully woven story is what it means to be a woman in the desolation of a man's world, a disabled person in a hardened world that despises the handicapped, a wielder of magic in a suspicious world that persecutes the magical, and a patriot in a cynical world that devours its children in endless wars. It's riveting story that defines the meaning of friendship, of fellowship, of comradeship, and of humanity in a group of women who learn to fly, to value the freedom that skill and power bring, and who defy the powers-that-be to describe the shape of sacrifice and the love of their fellow soldiers.
Even more remarkable than the beautifully written fantasy is the true stories that inspired it. Don't skip the author's note, where she explains the inspiration for her firebirds, the real-life Night Witches who flew night missions during World War II, attacking the German lines along the Russian front. As the author says, "The Night Witches met resistance from their enemies, their own army, and their country – but they never stopped fighting, and they never stopped caring, even when it seemed the Union did not care about them.
We Rule the Night is a riveting coming-of-age story with powerful female characters on a spell-binding adventure, complete with struggles, growth, and heartache. The world-building is immersive, the characters rich and nuanced, and their story is mesmerizing. We Rule the Night will haunt your thoughts long after you put it down.
I received an Advanced Reader Copy (ARC) from the publisher through Amazon.
Book description
Two girls use forbidden magic to fly and fight–for their country and for themselves–in this riveting debut fantasy that's part Shadow and Bone, part Code Name Verity.
Seventeen-year-old Revna is a factory worker, manufacturing war machines for the Union of the North. When she's caught using illegal magic, she fears being branded a traitor and imprisoned. Meanwhile, on the front lines, Linné defied her father, a Union general, and disguised herself as a boy to join the army. They're both offered a reprieve from punishment if they use their magic in a special women's military flight unit and undertake terrifying, deadly missions under cover of darkness. Revna and Linné can hardly stand to be in the same cockpit, but if they can't fly together, and if they can't find a way to fly well, the enemy's superior firepower will destroy them–if they don't destroy each other first.
We Rule the Night is a fiercely compelling story about sacrifice, complicated friendships, and survival against impossible odds.

Copyright secured by Digiprove
Acknowledgements: All book cover artwork and all text g more...
All Rights Reserved