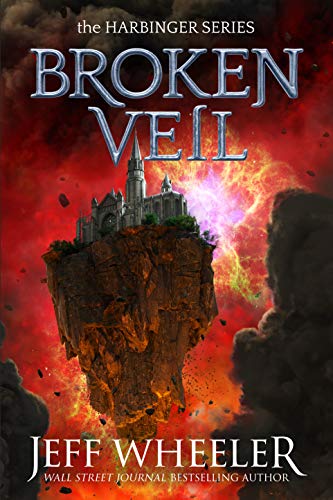 Broken Veil
by Jeff Wheeler
★★★★★
Complex times beautifully wrapped
Broken Veil was a satisfying conclusion to the Harbinger series. Jeff Wheeler knocks it out of the ballpark as all the storylines tighten their weave and warp to the conclusion. If you've read the series so far, you're going to be blown away with this final book. Everything you've liked and loved, those you've admired, and those you've hated will find their place upon the stage. (If you haven't read the rest of the series, go back quickly and start with Storm Glass; you'll be glad that you did!)
As usual, Wheeler's characterization is mesmerizing, his world-building meticulous, and his storylines are convoluted, twisty, and satisfyingly resolved. There's nothing lacking here except another book. Here's hoping for another series in the world of Kingfountain.
I received this book as an Advanced Reader Copy (ARC) from the publisher through NetGalley. My opinions are my own.
Book description
Rescued from a world of poverty, Cettie Pratt has avoided a bleak destiny—until now. Deceived and manipulated, she has been groomed for the ultimate betrayal: to destroy her best friend and stop peace from uniting two war-torn worlds. Her path leads her to a mysterious underworld where appearances can be deceiving.
Sera Fitzempress knows the value she has to her enemies. As heir to the empire, she must keep her foes at bay and prevent them from unleashing a being of unspeakable evil upon the world while fighting a brutal war. But her enemies are more cunning than Sera expects, and the key to their plans is none other than her best friend.
Neither woman knows what to believe. Neither one knows if she can trust the other. Both Cettie and Sera have made decisions that have irrevocably changed them. But the decisions they have yet to make will determine the fate of their world…

Copyright secured by Digiprove
Acknowledgements: All book cover artwork and all text g more...
All Rights Reserved