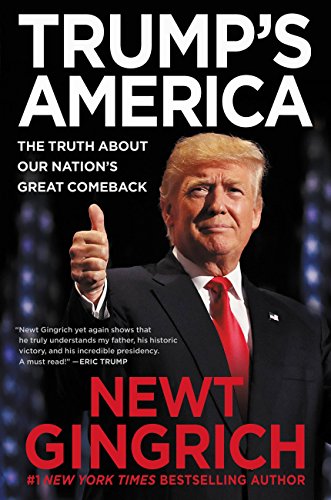 Trump's America
by Newt Gingrich
★★★★★
I expected to hate this book, but I was wrong…
Americans, even the most jaded liberal, generally accept that the mainstream media doesn't care for Donald Trump and is more than a bit biased toward the left, Obama, and Clinton. Newt Gingrich has documented in Trump's America: The Truth about Our Nation's Great Comeback what Trump has done to meet his campaign promises and the steps he has made toward his agenda of making America great again, because the media has reported so little positive. I didn't read the description before I nabbed this book. I just thought I'd see what Gingrich said about Trump's America, expecting it to be mostly political posturing and bluster with some pertinent data now and then. I expected to hate this book overall while finding nuggets of useful truth. Why? Because I hate comb-overs (petty, I know), wince at Trump's sometimes strange tweets, and I haven't trusted him (or any other politician) to keep his campaign promises.
I grabbed this book because I thought it might be a decent way to catch up on current events and Trump-age. I have a confession: I don't watch political news that closely anymore because, frankly, I don't trust the media or the American political system. I'm tired and I've lost the idealistic faith in our country that had me tromping through the snow in New Hampshire with other college students going door-to-door campaigning for Reagan. I think I'm a pretty average American in that. I mean, don't you sometimes want to just scrape our whole entrenched multitude of elitist, rich, clueless, condescending politicians right out of their offices and start over? Don't you sometimes long to throw them all out, get a fresh crop, establish term limits, give candidates all the same amount for campaigning, and just start over with zero professional politicians, zero elitists, and get some people in DC who actually understand what it's like to be a regular American? Well, Trump comes as close to a non-professional politician as it's possible to get. And he's got the plain speaking down… but how is he actually doing as President?
Trump's America is a blow-by-blow explanation of some of the major actions and policies that Trump has made so far in office in many areas, including immigration, freedom of religion, trade, free speech, economic policies, tax cuts, judiciary appointments, healthcare, fake news, the rule of law, bureaucracy, addiction, welfare reform, and our expansion into space.
Each book section discusses the steps taken, historical context, the anti-Trump view, the impact on Americans, etc. It was surprisingly informative and while I didn't agree with a few things… Okay, I have to mention one: Sorry, Mr. Gingrich, but some dust actually is a problem that needs to be controlled/regulated. It's not the dust that rises as you drive down the gravel road; it's the dust from a newly plowed field on the American plains when entire layers of topsoil are being swept through the air at 35-65 miles per hour causing the street lights to come on at noon. Standing there, bracing yourself against the wind and trying not to breathe in all that burnt-rubber scented dust, you remember the tales of the Dust Bowl and how the great endless cloud left thousands across multiple states choking with dust pneumonia, decimated the local economies, and actually reached DC , darkening the skies there. (Climbs off soapbox.)
I left this book feeling as if I just took a refresher crash course in civics and government, past, present, and hopeful future. I was surprised at the accounting of how many campaign promises have been kept and how much real work Trump has accomplished since he took office. Trump's America is a dense read with a lot of explanations and historical/background data, an appendix of Trump's speeches, and a lot of endnotes. Mr. Gingrich was thorough and his backup data is comprehensive.
I reached the end convinced that while we haven't enacted my pet plan of scraping DC down to the bedrock and populating it with non-professional political idealists, Trump might be better due to his past experience in business and his no-nonsense get-it-done-or-get-out-of-my-way attitude. He's blunt, plain-spoken, and sometimes a little over the edge, but he's actually making headway in helping ordinary Americans have a higher wage, attracting American businesses and dollars back to America, returning to a more orderly and sustainable plan for immigration, etc. He's not perfect, he's polarizing, and he's not always politically correct, but Trump has been good for America. Surprisingly good.
Highly recommended for those with open minds or a Republican/Trump bent. Die-hard liberals will probably just want to set their book on fire.
I received this book as an Advanced Reader Copy (ARC) through NetGalley. My opinions are my own.
Book description
No one understands the "Make America Great Again" effort with more insight and more experience than former Speaker of the House Newt Gingrich.
Gingrich helped President Ronald Reagan "Make America Great Again" in 1980. He authored the Contract with America and spearheaded the 1994 Republican Revolution that brought the House of Representatives under Republican control after 40 years. He knows what it is like to fight the Washington swamp and challenge the establishment – he has done it his entire career.
Now, the author of the #1 New York Times bestseller Understanding Trump is back to illustrate how our nation's 45th President is leading our country's great comeback.
From the fight of over the Southern Border Wall, to the Republican tax cuts, to the swamp's unending efforts to undermine and oppose the President, Trump's America lays out the truth about the Trump presidency – the truth the mainstream media won't tell you.
In this book, Gingrich – who has been called the President's chief explainer – presents a clear picture of this historic presidency and the tremendous, positive impact it is having on our nation and the world.
Gingrich unmasks the various branches of the anti-Trump coalition that are trying to stop America's great comeback. He reveals the flaws in their ideological assaults on the President and offers a battle plan for those in Trump's America to help the President defeat these attacks.
Throughout Trump's America, Gingrich distills decades of experience fighting Washington with a lifetime of studying history to help every American understand how we can all keep working to make America great.

Copyright secured by Digiprove
Acknowledgements: All book cover artwork and all text g more...
All Rights Reserved