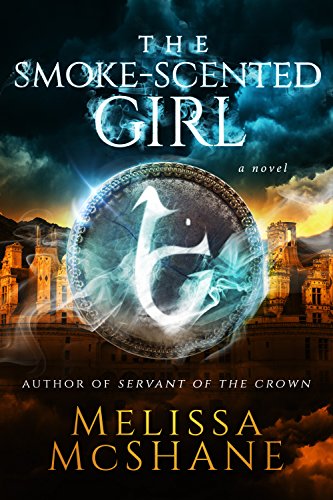 The Smoke-Scented Girl
by Melissa McShane
★★★★★
Enjoyable, original, great characters
I love how real Melissa McShane makes her magic system. And I love that Kerensa is so incredibly strong and endures so much while remaining so human. I love it when authors make strong women who step up to do what needs to be done with no reservations.
Evon is your typical geek (I mean magic-user) who is rather endearing as an Asperger-y absent-minded professor type. His interactions and reminiscing with Piercy reinforce their relationship, past and present. But the repartee is done in such a way that you don't feel as if you've missed anything by not knowing them in the past, it's more like meeting a couple of guys on a cross-European tour and them teasing each other. It's relatable and real, making the world that more believable.
I really enjoyed the storyline and loved how things were wrapped up, with story within story. I felt that could have been expanded more, but it might have taken from the main storyline. As it is, I hope to see more of both sets of characters in future works.
Book description
In a world very much like our own Victorian England, the country of Dalanine is at war. The implacable, unstoppable Despot has been pushing northward for over a year, conquering everything in his path with military and magical force, leaving nothing but destruction in his wake. For Evon Lorantis, Dalanine's most promising young magician, the war represents the same kind of work he's always done, inventing and developing new spells for his country's defense. But as good as he is, he's still stumped by the mystery the government's department of Home Defense brings him: a rash of spontaneously occurring fires, hotter than any natural force can produce, melting stone and vaporizing flesh wherever they strike. Home Defense believes it's a weapon that will finally defeat the Despot. And they want Evon to harness it.
In investigating the problem, Evon discovers these fires are no accident; there's a magician behind them, a woman using the fire to prosecute justice on her own terms. Evon sets off on a journey across Dalanine to track down this rogue magician, hoping to persuade her to turn aside from her vigilante crusade to serve her country, afraid of finding only a madwoman at the end of his quest. But the woman he does find is nothing like he expected, the mystery far greater—and older—than he'd imagined, and the secret of the fire more potent than anyone could have guessed. As Evon attempts to untangle fact from myth, what began as an assignment becomes a challenge that will require every ounce of magical ability he has—and will irrevocably change the course of his life.

Copyright secured by Digiprove
Acknowledgements: All book cover artwork and all text g more...
All Rights Reserved