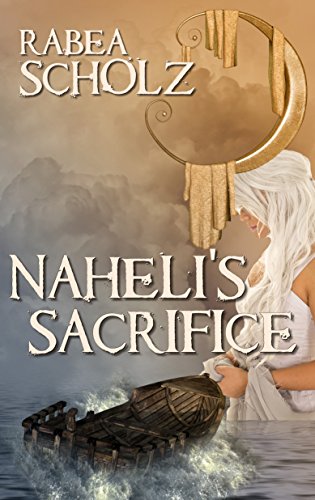 Naheli's Sacrifice
by Rabea Scholz
★★★★★
Brilliant, beautifully-written, engrossing, and heartbreaking.
Wow! This is a book that you won't want to put down until you reach that last sentence.
I decided to take a risk and grab four free random fantasy books on Amazon. Luckily one of the books I found was Neheli's Sacrifice. Rabea Scholtz is absolutely brilliant, building a world that pulls you in, forces you to believe in every iota of its reality, and enmeshes you in the lives of the characters. The story builds in complexity, contains so much of the human condition and conflict that I haven't quit thinking about it and how it relates to various real-life ideas since I finished it.
The story is about a young woman who has been prepared her whole life to be a sacrifice to her Goddess. She truly desires to be the perfect sacrifice, to follow the rules laid down for generations of previous Sacrifices, and to joyfully give her life on the day appointed. She has been carefully tended by the various priestesses. Being the Lady Sacrifice is a role integral to the survival of her island; everything around her is done to help her grow into the perfect Sacrifice and bring power and glory to her Goddess. Or is it?
Scholtz will make you smile, weep, and wonder. (That sounds like hyperbole, but I cried a lot while still totally enjoying the book.) If you love brilliant, complex fantasy that will leave you thinking long after you lay it down, this is the book for you. I think readers who enjoy Bujold, Sanderson, Aaron, Nix, and the other great fantasy world-builders will truly enjoy this book. This is one of the best free books I ever stumbled upon. I'm adding Scholtz to my authors-to-watch list.
Book description
Seven days to live. Four rules to follow. One Sacrifice to make.
Through cold glass walls, Naheli looks down on the altar of the ocean goddess where she will die in seven days. She doesn't mind much; the empaths have wiped her mind so clean that she hardly remembers what she once longed for. Only sometimes does she think of a colour in secret, or hum a forbidden tune.
Then her only remaining friend, the only one they haven't found yet, hands her a letter that changes everything. Forgotten feelings begin to surface, and Naheli remembers what it is like to cry, to laugh. To love. But her time is running out, and with the Sacrifice only days away, she sets out to solve the mystery of the letter — and discovers that most of her life has been a lie, and there may be some things worth living for.
Naheli's Sacrifice is the story of one young heroine defying the powers of her dystopian world while following the path of faith. On her quest to understand the true intentions of her elemental goddess, Naheli faces fear, sorrow, and even death… and all she has is a handful of broken memories and one good friend who will stay with her till the end.

Copyright secured by Digiprove
Acknowledgements: All book cover artwork and all text g more...
All Rights Reserved