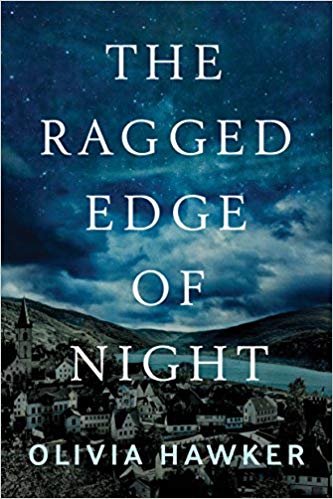 The Ragged Edge of Night
by Olivia Hawker
★★★★★
Are they betrayed?!! Will they make it to the dawn?
Get ready for frenetic historical ride because The Ragged Edge of Night is a gripping, soul-searing read that slams you into Anton Starzmann's life as he journeys from his lost order and children and weds a widow in the tiny German town of Unterboighingen. Starzmann has exaggerated, perhaps even faked, a parachuting injury to escape the Wehrmacht. As he devotes himself to his new children and family, the loss of his other children and his betrayal of their trust drives him to the depths of despair and desperation. He will do anything to keep his new family safe and to stop the Führer's reign of darkness. Along with other Germans scattered about the country, Anton will risk his life for freedom, facing down bullies, Nazi party members, informants, and his own fears as they build a fragile network intent on the death of Adolf Hitler. These staunch Germans are determined to free Germany from its own terrified inaction and a tyranny of evil.
Even as the story entraps us with its suspense and plots, Olivia Hawker's writing elevates this story from engaging and enjoyable to the sublime heights of introspection and insights on the human condition. Her writing is truly lyrical even in the tensest moment. To even try to describe it feels as if I am trivializing some part of it, and yet so many thoughts in this story immediately sear into you as truth and truths that should never be forgotten painted in word pictures indelibly inked onto your mind's eye. And, while Jews enter the picture at times, it is the plight and desperation of the common German that is laid open for us. That they know they should have acted sooner and that the evil is on their heads; evil that they do not know how to halt. Evil that tears apart their country, their villages, their families. They themselves starve, are made homeless refugees, and have their children ripped from them and murdered.
And, yet, through all the darkness, there is the hope of light, of dawn on the horizon. If they can just eek out one more meal, piece one more garment from rags, shelter from distant bomb strikes… If they just can … hope, then there is still hope. And so they keep on one step in front of the other, one neighbor fed, another neighbor clothed, a countryman sheltered, an orphan embraced. Treasures are hidden and depths revealed. One moment at a time, they hang on. If only the light will dawn… Will it ever dawn?
This is a story that will leave you drained and spent when you are done, horrified by man's inhumanity to man, and yet astounded by the depths of courage and love that spur people to sacrifice and redemption. If you love works of historical fiction, World War II history, biographies, etc., stop right now and grab this book. You don't even need to finish reading this review. You are going to love it. I've read a lot of historical fiction about World War II, the Third Reich, etc., and this is up there with the best that I have ever read. If you were ensnared by Schindler's List, Beneath a Scarlet Sky, The Hiding Place, or stories similar to those seminal works, you will be mesmerized by The Ragged Edge of Night.
Please note that this book is strongly woven with a man's and a nation's faith. If you are offended by anything remotely touching upon Christianity, then a book about a friar is probably not the choice for you. Just a heads-up. For the open-minded, this is a book that will touch your soul, so you might want to get out a couple of boxes of tissues before you start reading. You are warned.
I read this as my September Amazon First Read pick. Incredibly pleased with the quality of the story and writing. Olivia Hawker just jumped to the top of my must-buy authors list. Make sure to read the her notes after the story!
Book description
For fans of All the Light We Cannot See, Beneath a Scarlet Sky, and The Nightingale comes an emotionally gripping, beautifully written historical novel about extraordinary hope, redemption, and one man's search for light during the darkest times of World War II.
Germany, 1942. Franciscan friar Anton Starzmann is stripped of his place in the world when his school is seized by the Nazis. He relocates to a small German hamlet to wed Elisabeth Herter, a widow who seeks a marriage—in name only—to a man who can help raise her three children. Anton seeks something too—atonement for failing to protect his young students from the wrath of the Nazis. But neither he nor Elisabeth expects their lives to be shaken once again by the inescapable rumble of war.
As Anton struggles to adapt to the roles of husband and father, he learns of the Red Orchestra, an underground network of resisters plotting to assassinate Hitler. Despite Elisabeth's reservations, Anton joins this army of shadows. But when the SS discovers his schemes, Anton will embark on a final act of defiance that may cost him his life—even if it means saying goodbye to the family he has come to love more than he ever believed possible.

Copyright secured by Digiprove
Acknowledgements: All book cover artwork and all text g more...
All Rights Reserved