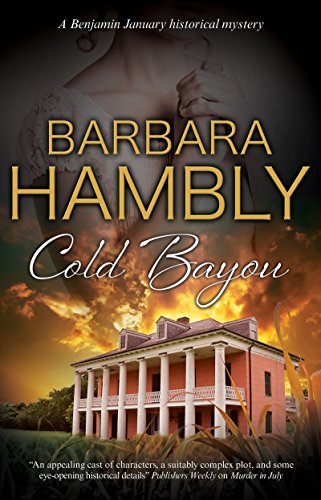 Cold Bayou
★★★★★
Death in the water, flood, and fire

Wow! This story is indelibly etched on my brain with its deep characterizations, multi-layered mysteries, historical information, and incredible world-building… everything from the flow of the river to the race and class divisions. Benjamin January, a free Black man, is asked to play at the wedding of an older wealthy Creole, Veryl St-Chinian, who is marrying a destitute but beautiful young Irish slut who may have her eye on his money. But many in his family have unabashed expectations, and Ellie Trask won't make it to the altar if they have their way. From missing clergy to murdered maids, Cold Bayou lays a tangled trail from plantation to dead-huts, through flood and fire. There's death in the water, just as January's sister, Olympe, predicted.
January finds himself walking the divide between whites and blacks, freemen and slaves, as he investigates a murder. There is so much here about the social structure and racism within old New Orleans, from the founding of the city itself forward to January's day, where mixed-race ladies are trained to make their living as rich men's mistresses. From the French Creoles to the black overseers and gang-bosses, each class and role plays its appointed part, and all play into the dance that January must perform to do justice to the dead and save the living. The violence explodes when the maid is murdered, January is accused of the murder and left to die, chained in a flooded building set ablaze, and the savagery escalates in the disparate opulence and poverty of the plantation.  Love and hatred blur class and race divides.
Brilliant read! Give yourself time to sit down and enjoy the experience for several hours, because this is not your mother's cozy. It's not a fun, fast, painless read. This is a deep and thoughtful novel that deserves to be savored. Highly recommended to anyone that loves historical novels, mysteries, or insights into racism and inequality in America.
I received this book as an Advanced Reader Copy (ARC) through NetGalley. My opinions are my own.
Book description
"Don't go to Cold Bayou, brother … Nuthin' good waiting for you there." 
New Orleans, 1839. Despite his misgivings, Benjamin January has agreed to play the piano at the wedding of wealthy French Creole landowner Veryl St-Chinian. All is not well, for the marriage of 67-year-old, profoundly infatuated Uncle Veryl to an 18-year-old Irish tavern-slut spells potential disaster for everyone in the inter-married Viellard and St-Chinian clans. But the old man is determined to marry Miss Ellie Trask, and nothing will stand in his way.
On the isolated plantation of Cold Bayou where the ceremony is to take place, tension is rife even before the body is discovered in the woods behind the dower house, its throat cut. A yet more disturbing turn of events sees January himself accused of the crime…

Copyright secured by Digiprove
Acknowledgements: All book cover artwork and all text g more...
All Rights Reserved