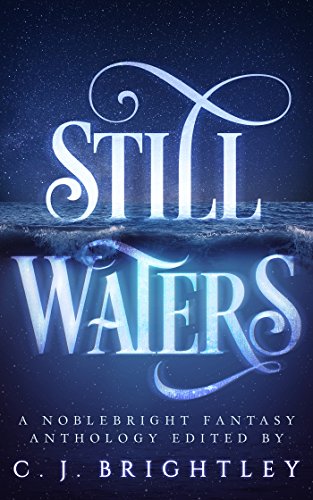 Still Waters
by C. J. Brightley
★★★★★
Hits it out of the park with original concepts and amazing world-building
Still Waters: A Noblebright Fantasy Anthology is a quirky collection of noblebright stories by the same editor who coordinated Luminous: A Noblebright Fantasy Boxed Set. This collection, if anything, exceeds the quality of Luminious, although it's a collection of short stories, not novels as Luminous is.
The first story in the collection, "The Stars' Chill Song," hits it out of the park with original concepts and amazing world-building. I could see this expanding into a book; in fact, my only problem with the story is that I would have liked to have known even more about this world. I still can't get the idea of the stars' song etching glass out of my mind's eye. I was left wanting even more. (Well, I felt the same about "Washing of the Water" and "Of Grief and Griffin.")
The subjects of the stories in Still Waters range from vampires and princesses made of fire, cats who earn the right to fight beside the warriors of Valhalla, and friends who find a coin that grants them one wish between them to a girl who rescues a griffin (or is it the other way around?). The stories are all fresh and well-written.
There's grief and joy, loss and discovery, and truths about the human condition. Some of these stories will leave you thinking long after you've set the book down. I didn't notice any problems with editing.
I won't go more in-depth because my review could end up as long as the book. It really is a great collection, though, and I'm glad I got it.
I learned of Still Waters from an author that I follow (they don't have a story in this collection), and I wanted to read it because I enjoyed the Luminous anthology so much.  I received Still Waters as an ARC, and I then bought it with my own money on pre-order. Yes, I had a free copy but I bought it anyway because I wanted it to load and sync correctly on all my various Kindles. (Yes, that's a bit OCD.) My opinions are my own.
Book description
Noblebright fantasy is fantasy with a thread of hope even in the darkest hour, with characters who strive to do the right thing, even when it costs them everything.
In this exciting collection of noblebright fantasy, fresh new fantasy voices and award-winning authors explore grief and hope, sacrifice and heroism. Rediscover the best aspect of classic fantasy – the noblebright ideals that made heroes heroic, even when the world grew dark around them.
Wizards, princesses, peasants, schoolchildren, griffins, and the song of the stars shine brightly in these wide-ranging tales of possibility, courage, and hope.
This anthology features stories from:
JA Andrews, Gustavo Bondoni, Christopher Bunn, M.C. Dwyer, Yvonne Eliot, Francesca Forrest, Chloe Garner, Corrie Garrett, Joanna Hoyt, Cate Isert, Glenn James, Jim Johnson, Ville Meriläinen, A. K. R. Scott, Sherwood Smith, and John Taloni.

Copyright secured by Digiprove
Acknowledgements: All book cover artwork and all text g more...
All Rights Reserved