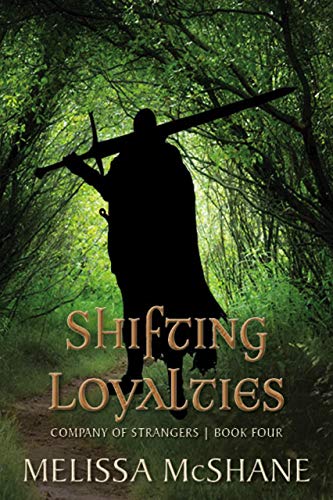 Shifting Loyalties
by Melissa McShane
★★★★★

A great addition to Company of Strangers
I didn't review this when it first came out because I was on a tear to read through my TBR stack and didn't stop when I should have to write while the book was fresh. I went back to double-check some facts on Shifting Loyalties and ended up rereading the entire book and savoring every moment of the story again.
Melissa McShane writes such believable, relatable characters inhabiting a world that is so different than ours and yet so much the same on a meta-theme, human condition, and human conundrum way. That sounds so logical and practiced, and yet it all wraps around engrossing, engaging stories, great storytelling, clever mysteries, and just a whole lot of fun.
I can't wait to see what happens in the next in the series; it's always something fresh and original. Highly recommended for those who love great stories.
Note: This is one of series. If you haven't read the others, go back and read them first, as this is not a standalone novel.
Book description
The four hundredth anniversary of the city of Fioretti's founding provides Sienne and her companions a welcome break from their quest. But the celebration also brings Sienne's family to Fioretti, with news that changes her life and threatens her association with her companions, as well as her relationship with Alaric. To escape her fate and Perrin's vengeful father, the friends accept a job that takes them far from the city, to the eastern mountains.
The job seems simple. A struggling community of settlers needs scrappers to clear out a ruin where something dangerous lurks. But the companions soon discover that nothing is as they expected. What the settlers actually want proves complicated even for these experienced scrappers. And a confrontation with a terrible enemy may end in someone's death.
A thrilling tale of duty, honor, and the choice between the two.

Copyright secured by Digiprove
Acknowledgements: All book cover artwork and all text g more...
All Rights Reserved