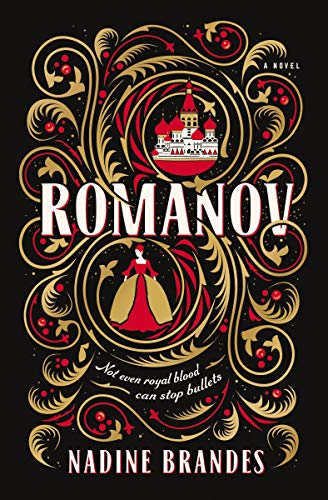 Romanov
by Nadine Brandes
★★★★★
Is this the end for Romanov blood?
Nastya, Anastasia Romanov, adores her family and admires the calm humble kindness of her papa, the ex-tsar Nikolai. Their family draws its strength from each other as they survive their captivity which becomes more desperate and harsh with each move their family is made to make by the Bolsheviks. But Nastya has a secret. She has a Matryoshka doll, a Russian nesting doll, with hidden layers of spells – magic which her father has asked her to protect as the salvation of their family. She knows only one spell, the one she uses to sooth her brother's pain, taught to her by Rasputin, a spell master demonized by the new rulers of the land.
Nastya snatches the precious Matryoshka doll back from evil Yurovsky, who pursues her family across the countryside, determined to destroy spell masters, especially Dochkin, who made the doll that will preserve her family. His hate is now also aimed at Nastya. Her childhood of pranks and plays serves her well as she pretends to be a more compliant prisoner while stealing spell ink and hidden breaths of fresh air. But will it bring more misfortune down upon her beloved family?
Even as her sister, Maria, falls for Ivan, one of their guards, Anastasia is attracted to Zash, another Bolshevik. Is he kind or is he just another cold-hearted soldier who hates everything about the royal family? As she struggles to help her ill brother, Alexei, Nastya also struggles to deal with her hate toward those who imprison and injure her family.  Can she embody the empathy and forgiveness modeled by her father even as her family faces the worst threat yet.
If you read Fawkes by Brandes, then you already know that she is a master storyteller, twining fantasy around history and making new stories that pull at our hearts. The worldbuilding is intently immersive and vibrant, the characterization is complex and nuanced, and the plot is original, surprising, and yet eerily familiar. Romanov is a fantastic read all the way around.
Don't miss the Author's Note where Brandes relates what's true and what's not in the story. It's a fascinating and heartbreaking ending in and of itself. Highly recommended for those who love history, fantasy, and superb storytelling. Brandes is firmly seated on my must-buy shortlist.
Book description
The history books say I died.
They don't know the half of it.
Anastasia "Nastya" Romanov was given a single mission: to smuggle an ancient spell into her suitcase on her way to exile in Siberia. It might be her family's only salvation. But the leader of the Bolshevik army is after them, and he's hunted Romanov before.
Nastya's only chances of saving herself and her family are either to release the spell and deal with the consequences, or to enlist help from Zash, the handsome soldier who doesn't act like the average Bolshevik. Nastya has only dabbled in magic, but it doesn't frighten her half as much as her growing attraction to Zash. She likes him. She thinks he might even like her.
That is, until she's on one side of a firing squad . . . and he's on the other.

Copyright secured by Digiprove
Acknowledgements: All book cover artwork and all text g more...
All Rights Reserved