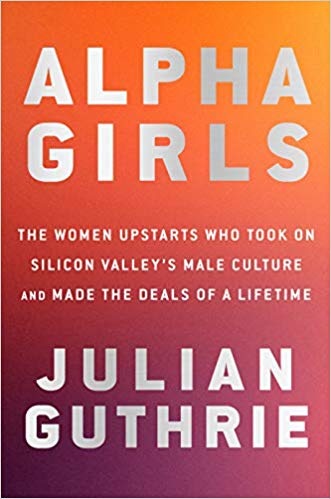 Alpha Girls
by Julian Guthrie
★★★★★
A must-read, excellent but dry
Alpha Girls tell the stories of Magdalena Yesil, Mary Jane Elmore,Theresia Gouw, and Sonja Hoel, movers and shakers in Silicon Valley at the dawn of age of the internet, personal computing… an age where Bill Gates, Steve Jobs, and others were coming into their own. It was a time when everything was up for grabs, but where very few women carved their own niche. They're fascinating women with varied and storied lives that deserve to be remembered and celebrated.
Alpha Girls is chock full of fascinating information on making it as a woman in the Silicon Valley. I think every girl going into IT, sales, or business – well, any career – should read it. However, it's a dry, dense read bursting with data and detailed explanations of countless business dealings. It reads more like an encyclopedia article than a biography. It's all tell and no show, which is a shame. I'd like to see this material given a different treatment to make it more accessible to a wider audience. As it is, I think many will turn away from the dry, pragmatic documentation of these women's experiences.
I found it helpful to take breaks and go off to other books in between reading segments of Alpha Girls. It's worth bearing with and reading for all the wisdom, experience, and perseverance it contains. I highly recommend it to any who want examples of what it takes to make it in a man's world.
I received this book as a digital Advanced Reader Copy (ARC) from the publisher through NetGalley. My opinions are my own.
Book description
In Alpha Girls, award-winning journalist Julian Guthrie takes readers behind the closed doors of venture capital, an industry that transforms economies and shapes how we live. We follow the lives and careers of four women who were largely written out of history – until now.
Magdalena Yesil, who arrived in America from Turkey with $43 to her name, would go on to receive her electrical engineering degree from Stanford, found some of the first companies to commercialize internet access, and help Marc Benioff build Salesforce. Mary Jane Elmore went from the corn fields of Indiana to Stanford and on to the storied venture capital firm IVP – where she was one of the first women in the U.S. to make partner – only to be pulled back from the glass ceiling by expectations at home. Theresia Gouw, an overachieving first-generation Asian American from a working-class town, dominated the foosball tables at Brown (she would later reluctantly let Sergey Brin win to help Accel Partners court Google), before she helped land and build companies including Facebook, Trulia, Imperva, and ForeScout. Sonja Hoel, a Southerner who became the first woman investing partner at white-glove Menlo Ventures, invested in McAfee, Hotmail, Acme Packet, and F5 Networks. As her star was still rising at Menlo, a personal crisis would turn her into an activist overnight, inspiring her to found an all-women's investment group and a national nonprofit for girls.
These women, juggling work and family, shaped the tech landscape we know today while overcoming unequal pay, actual punches, betrayals, and the sexist attitudes prevalent in Silicon Valley and in male-dominated industries everywhere. Despite the setbacks, they would rise again to rewrite the rules for an industry they love. In Alpha Girls, Guthrie reveals their untold stories.

Copyright secured by Digiprove
Acknowledgements: All book cover artwork and all text g more...
All Rights Reserved