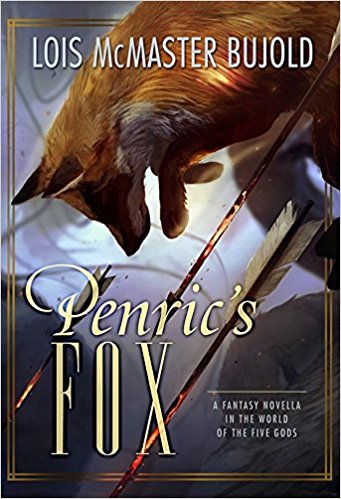 Penric's Fox
by Lois McMaster Bujold
★★★★★
Who dares kill a demon?
In the sequel to Penric and the Shaman, Penric and Desdemona team up with Inglis and Oswyl to figure out why a sorceress has been struck down in the depths of the woods and by whom. Penric and the others must find a fox that has escaped with the sorceress's demon before woodsmen slaughter it in an ill-timed campaign to clear the woods of foxes.
Why would someone dare to kill a sorceress knowing her demon would try to jump to someone nearby? Or was there canniness to the fatal arrow that forced the demon to enter a lower beast? Bujold carves a path through her constructed world, meshing magic, demons, and the murder of a well-regarded woman in this newest Penric mystery.
The Penric novellas are less manic than Bujold's other series. They're often a seemingly bucolic ramble through whatever wilderness of human intrigue Bujold is mapping for us. That said, the world-building is rich, the characters complex, and the magic and mysteries fascinating. As usual, Bujold reveals much about the human condition, with all its strengths and frailties, while keeping us entertained and focused on her sleight of hand.
My only con for this book is that Bujold keeps convincing me to pay for these novellas, which are rather small installments, compared to her Vorkosigan novels. I suppose the blame is on me for my addiction, but I would dearly love to see all the Penric novels in an omnibus or two for newcomers to the series.
I received this book as an Advanced Reader Copy (ARC) from NetGalley. My opinions are my own.
Book description
With Penric's Fox, multiple-award-winner and bestselling author Lois McMaster Bujold returns to her World of the Five Gods, the setting of her acclaimed novels The Curse of Chalion, Paladin of Souls, and The Hallowed Hunt. Continuing the tale begun in the novellas Penric's Demon, Penric and the Shaman, and Penric's Mission, Bujold's newest installment of Penric and Desdemona's tale is another must-read novella for her legion of fans.
Some eight months after the events of Penric and the Shaman, Learned Penric, sorcerer and scholar, travels to Easthome, the capital of the Weald. There he again meets his friends Shaman Inglis and Locator Oswyl. When the body of a sorceress is found in the woods, Oswyl draws him into another investigation; they must all work together to uncover a mystery mixing magic, murder and the strange realities of Temple demons.

Copyright secured by Digiprove
Acknowledgements: All book cover artwork and all text g more...
All Rights Reserved