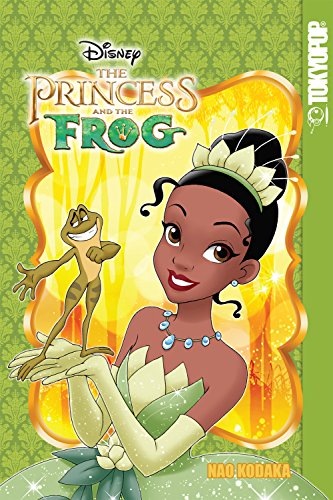 The Princess and the Frog
Disney Manga by Nao Kodaka
★★★★★
What's hopping in New Orleans? What's cooking with Tiana and Naveen?
The Shadow Man's curse has Tiana and Naveen a little green and totally amphibian. The prince and the waitress must break the curse by midnight on Mardi Gras or stay frogs forever. Can they find a princess to kiss Naveen in time?
For anyone of any age that loves fairy tales, new spins on fairy tales, or Disney comics and manga, this is a treat. You've got a feisty heroine and a hero who's willing to learn to cook. What else do you need? It's a recipe for mayhem and a little romance, Disney style!
In addition to the story, there's a really neat info section introducing the main characters with notes about their character, their background, and insights from and about the supervising animator. There's also a section of manga lover sketches that could be used for coloring or for learning to draw the characters. There are also sneak peeks at other Disney manga titles.
Remember to follow the panels and conversation bubbles from right to left. There's a handy reference that shows you the flow in numbers, so you won't get lost. (Trying to read left to right will get your brain in a knot and make for some really weird conversations!)
I received this book as an Advanced Reader Copy (ARC) from NetGalley. My opinions are my own.
Book description
Tiana is a hardworking young woman who has always dreamed of owning the finest restaurant in all of Louisiana. When her dreams turn awry, she looks to the evening star and makes a wish, bringing her to face-to-face with the with a frog prince. He promises to make her dreams come true in exchange for a kiss, but when the deal goes sour, they find themselves having to work together in a race against time to put things right.
Join Tiana, Naveen, and their bayou friends as they go on an adventure of a lifetime in this magical manga adaptation of Disney's The Princess and the Frog. Add this to your Disney Manga collection today!

Copyright secured by Digiprove
Acknowledgements: All book cover artwork and all text g more...
All Rights Reserved