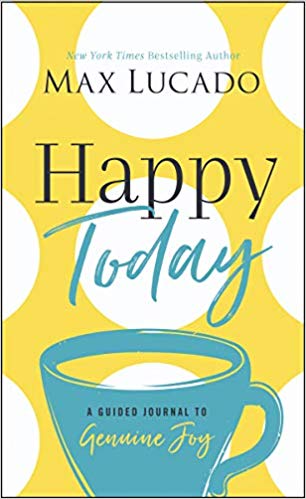 Happy Today
by Max Lucado
★★★★★
A journal that can help you bring happiness back into your life
It's easy to be unhappy in today's world, and some of what goes on around us from trolls on the internet to hate everywhere in television shows or Facebook or Twitter, lends itself to our unhappiness. Some unhappiness is a choice, a choice to pay attention to things that add no value or happiness to our lives. I'm not talking about clinical depression or sadness caused by life events, but about the unhappiness caused by focusing on things that bring us down. To me, that is what Max Lucado is doing with this journal. He is giving us tools and ideas to help us to choose to avoid the things that we cannot control, that we can live without, that damage our lives. He is not asking us to have superficial, artificial happiness or "happy talk," but to do things that help us find true happiness.
The journal is divided into sections. Happy Again is an introduction, How to Find Happiness is a section of journal entries that ask us to remember things that we have done that made us happen, times when we helped someone else, including our motivation and how it made us feel, what areas of our life we feel are out of our control, ways that we might make our corner of the world a bit brighter, etc. Other sections include: Find Happiness by Encouraging One Another, Find Happiness Accepting One Another, Find Happiness in Humility, Find Happiness Greeting One Another, Find Happiness in Prayer, Find Happiness in Serving Others, Find Happiness in Forgiveness, Find Happiness in the Love of God, and Final Thoughts.
I'm hoping to get a loved one to use this journal to put parts of his life in perspective, where he is allowing what is around him to drag him down, and he has forgotten all the times he served others. Well, he hasn't forgotten it, but even though he knows that was the happiest time of his life, he finds it hard to commit to help others now.  Albert Einstein said that only a life lived for others is a life worthwhile (worth living), and I believe that when we help others, we keep our own lives in perspective and remember to be grateful for what we have.
Max Lucado strikes me as someone who remembers that being a good person, being a good Christian, means letting go of anger, accepting others as they are, not judging, and not trying to change things that we cannot control. I think working through this journal is a good way to keep our lives in the perspective that we are not here to be the center of the universe, to be waited upon and served by others; we are here to help others, whether it's helping the homeless, cleaning up parks and shorelines, helping rebuild homes, etc. And, as Little Lord Fauntleroy's mother so aptly put it, we should leave the world a better place because we lived.
I believe this journal can help us put all that in perspective. Highly recommended for those who have tried to do to much, burned out, lost sight of what was important, and who would just like to reconsider and reevaluate what adds happiness and joy to their lives.
Book description
What makes you happy? Do you live a life filled with genuine, unabashed joy? The path there may surprise you.
You aren't in charge of the weather, the traffic, or the occupant of the White House. But you can always increase the number of smiles on our planet. You can lower the anger level in your city. You, yes you, can help people to sleep better, laugh more, hum instead of grumble, walk instead of stumble. And don't be surprised when you begin to sense a newfound joy yourself. That's what this book is about: the unexpected path to joy.
In this 52-week guided journal, each week includes an excerpt of Max's writing, primarily from How Happiness Happens. Each entry also includes a scripture and a guided journal prompt, alongside journaling space with photos and beautiful illustrations on each spread. This beautiful book is great to work through independently or as you read Max Lucado's How Happiness Happens.
By walking through the "one another" passages found in Scripture, Max equips you with both an overarching way of living and practical day-to-day actions that produce a life of happiness and moments of true joy. You'll discover the secret that the Bible teaches and research affirms: doing good does good for the doer.
This guided journal will help you discover what happiness is and how to find that deep, lasting, heart-brimming-over kind of happy.

Copyright secured by Digiprove
Acknowledgements: All book cover artwork and all text g more...
All Rights Reserved