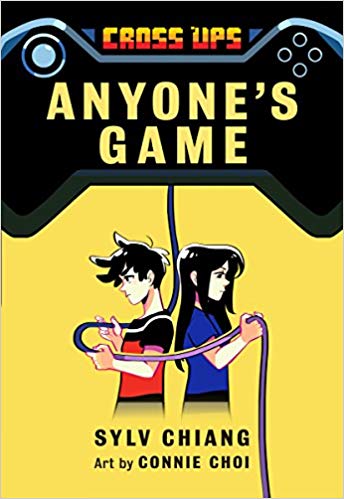 Anyone's Game
by Sylv Chiang
★★★★★
Why is Jaden's best friend, Cali, acting so weird?
Jaden loves to play Cross Ups, he's got a sponsorship that supplies him with an awesome controller, and even though his BFF Cali has moved to Montreal, they still have fun playing Cross Ups together. But while Cali's getting better and better at their favorite video game, she's also freezing Jaden out. She dumps the game without answering his questions, she keeps changing her gamer tag, and she's keeping secrets.
In Anyone's Game (Cross Ups, Book 2), Jaden is having an awesome time with his new teammates, even though he's a bit intimidated as the youngest player. There's a tournament coming up and Jaden's got a chance to go to Montreal, if only he can convince his mom to let him go. There are a few shenanigans by friends and family, and Jaden's on his way with his sister and her boyfriend, riding the train to Montreal. If only he didn't leave his team's controller on the train. If only Cali would say what was bothering her. If only her baby sister, Ruby, would quit crying.
There's a lot riding on this tournament, including Jaden's friendship with Cali. She's more than a little bit angry and she's entering the tournament herself. Jaden's trying to help her by letting her win, but that's not turning out the way that he planned. Jaden's learning more about being a friend, treating girls fairly and equally, but most of all he's learning to listen. Jaden must understand the line between teasing, trash talking, and harassment. It's a lesson he can't learn too soon, because someone's taking it too far and harassing girls online and in real life. Can Jaden learn empathy, understand when trash talk isn't funny, and stand up for the best friend a guy ever had… even if it costs him his team? Can he support Cali as she stands up for herself as a gamer and a girl?
There are good lessons and relatable, teachable moments in this story on some hard topics, including sexism on multiple fronts, trolling, stalking, bullying, standing up for what's right, friendship, and much, much more.
Highly recommended and enjoyed as a fun, fast read that will appeal to a wide range of readers, including reluctant readers, and especially gamers.
I received this book as an Advanced Reader Copy (ARC) from the publisher through NetGalley. My opinions are my own.
Book description
What's up with Cali? Why does she keep changing her gamer tag?
It's summertime, and even though his good friend Cali moved to another city, Jaden can connect with her online almost every day to play their favorite game, Cross Ups. His mom has loosened her rules on how often he can play, and he has an amazing new controller that will make him even better at tournaments. But then he gets roped into a dorky summer camp with his buddy Hugh, and Cali starts acting really weird . . . So when a last-minute tournament spot opens up in Cali's city, Jaden jumps at the chance to go.
But things go badly from the start. Jaden loses his controller on the train, and his reunion with Cali is awkward. She's unhappy, and Jaden can't figure out why, especially when she's getting better and better at Cross Ups―and may even win the tournament.
With its sharp dialogue and relatable characters, Anyone's Game, the second book in the Cross Ups series, chronicles the ups and downs of middle school with a relevant, contemporary twist.

Copyright secured by Digiprove
Acknowledgements: All book cover artwork and all text g more...
All Rights Reserved