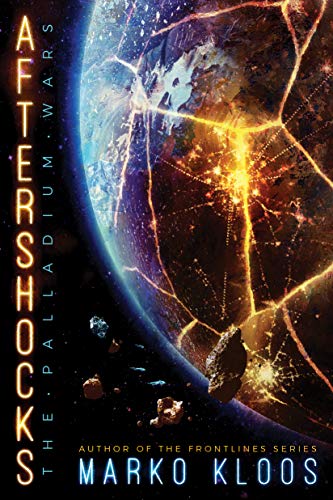 Aftershocks
by Marko Kloos
★★★★★
Can a man find himself while fleeing from everything he ever was?
Aden Robertson has been serving a prison sentence, having been on the losing side of a war. He'd like to start over and find a quiet place to live, free from persecution for his role in the war and his planet of origin. He'd also like to leave more of himself behind, more secrets, more lies. But in addition to being despised as a Gretian, a Gretian soldier, and a Blackguard to boot, he's got a feeling that someone else may be closing in on him.
He's made it through the last months of his imprisonment, can he make it through the bureaucracy and finagle a ride to Gretia? Bad luck, bad people, complications, and entanglements jeopardize his flight toward a new life and freedom. Aden finds himself not headed for peace, but war from an unseen enemy.  But even as bad things happen to good people, Aden's luck might possibly be changing. If he can just avoid… well, just about everyone.
Meanwhile, someone may be trying to restart a war, as the occupation forces on Gretia face sudden, violent, and merciless attacks on their troops and on the Gretian civilian population. Someone destroys the mothballed Gretian space fleet, and it isn't the people guarding it. An invisible, unidentified enemy is breaking the peace and plunging all the planets back into the bloody conflict.
Aftershocks is the first novel in a new series by Marko Kloos, who is fast becoming one of my all-time favorite authors. While I'm late to the game, discovering him a little over a year ago, I've devoured everything Frontlines and even a certain treatise regarding shifters. Aftershocks is a frenetic, wildly implosive read that has me hungry for the next book and salivating over the thought of another great series. Highly recommended for those who love military stories, science fiction, intricate world-building, complex characters, and simply good storytelling. Chalk another one up in the must-read column.
I received this book as a digital Advanced Reader Copy (ARC) from the publisher through NetGalley. My opinions are my own.
Book description
Across the six-planet expanse of the Gaia system, the Earthlike Gretia struggles to stabilize in the wake of an interplanetary war. Amid an uneasy alliance to maintain economies, resources, and populations, Aden Robertson reemerges. After devoting twelve years of his life to the reviled losing side, with the blood of half a million casualties on his hands, Aden is looking for a way to move on. He's not the only one.
A naval officer has borne witness to inconceivable attacks on a salvaged fleet. A sergeant with the occupation forces is treading increasingly hostile ground. And a young woman, thrust into responsibility as vice president of her family's raw materials empire, faces a threat she never anticipated.
Now, on the cusp of an explosive and wide-reaching insurrection, Aden plunges once again into the brutal life he longed to forget. He's been on the wrong side of war before. But this time, the new enemy has yet to reveal themselves…or their dangerous endgame.

Copyright secured by Digiprove
Acknowledgements: All book cover artwork and all text g more...
All Rights Reserved