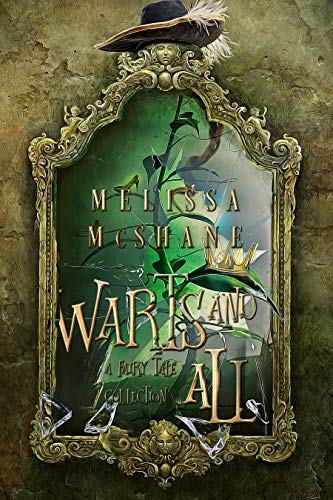 Warts and All Melissa McShane
by Melissa McShane
★★★★★
Not your mother's fairytales…
I am a sucker for fairytales and anything Melissa McShane, so Warts and All: A Fairy Tale Collection is two of my favorite things put together. McShane is a skilled twisty-story sort of author, so you know going in that these are not your mother's fairy tales. And as McShane says, some stories are inspired rather than retellings – all to the good! A very interesting twist on top of everything is that these fairytales take place chronologically across a young woman's lifetime, which works very well, especially as these tales are modified to fit. Who else would attract all these tales but a young witch with a shiny new wand?
McShane's fractured fairytales include:
Warts and All – The Frog Prince
This story follows our young heroine, Chloe, as she survives a sweltering field trip exploring the gardens and hedges on the palace grounds. While she rests on a fountain edge, a reluctant amphibian takes shelter in her backpack. Now it's a race to release the victim from his transformation before he forgets who he was as a human.
Baby Steps – Thumbelina
Who knew that witches had to take Child Development classes? Chloe chose Child Development for an easy A, but the A might not be quite as easy to earn as she expects. As the class is assigned to carry My Real Babies as hands-on practice, Chloe discovers her doll isn't quite as baby-like and adorable as she hoped. It's enough to make one give up dreams of motherhood.
If the Shoe Fits – Cinderella
Chloe is feeling a bit neglected by her boyfriend, Ethan. There's nothing like a ball, a beautiful dress, and lovely golden slippers to make one feel special. But perhaps one shouldn't accept shoes from strange old ladies. Can Chloe survive being the belle of the ball?
With a Little Help From My Friends – The Bremen Town Musicians
Ethan stars in a unique version of this wonderful fairytale, trying his best for a very special birthday for Chloe. Can assorted talking, cooking, singing, and gardening animals help save his magical happily ever after?
Homewrecker – Goldilocks and the Three Bears
Chloe's off to visit a friend, making her way through a snowstorm at night, which makes finding her friend's house difficult. Luckily, she's got her trusty familiar, Farnsworth, with her as she reaches all new heights of klutziness. Luckily, her friend has left her key under the mat so she can let herself in.
Picture Perfect – Jack and the Beanstalk
Ethan shines as he deals with inheriting a very strange painting from a grateful client, being fired by an unethical boss who doesn't appreciate his hard work and honesty, and having a run in with a rather monstrous thug. He's about to get intimately acquainted with Brooklyn and some non-magical ingenuity.
Lost and Found – Puss in Boots
Chloe is dealing with the loss of her familiar, Farnsworth, when a rather smug and condescending cat crosses her path. Arrowroot is waiting for his wealthy master, Mr. Marcus Carabas. When the Chloe and Arrowroot keep meeting, can Chloe figure out where this prickly cat belongs?
Run, Run, As Fast As You Can – The Gingerbread Man
Chloe is having some interesting results with her latest kitchen witch experiments. What happens when you add a little too much ginger and peach brandy to a gingerbread man? As Chloe and Arrowroot chase down the escape artist, the kitchen witch envisions unemployment.
Bad Hair Day – Rapunzel
Chloe's daughter Belinda is having attitude problems. While Chloe worries about being a terrible mother, Belinda discovers that her exercises in rebellion have unexpected consequences.
Cookies and Milk, Gristle and Fat – Hansel and Gretel
Some cute kids have moved in across the street and pay Chloe a visit. Chloe's hospitable sharing of cookies and milk doesn't seem to be turning out as planned when the visiting children behave badly, as does their mother.
On the Hunt – Little Red Riding Hood
Belinda's on her way to her granny's house when life gets a bit complicated. A menacing man on a motorcycle offers her a ride and a strange, but nice photographer offers her advice and asks for a chance to share the animals he's seen. Luckily, Belinda's good at thinking on her feet and wielding a skillet.
Overall, these fairytales are uniquely twisted and fun. A very enjoyable read! Highly recommended for those who love fantasy and fractured fairytales.
I received this book as an Advanced Reader Copy (ARC) from the author. My opinions are my own.
Book description
Beginner witch Chloe has a problem. There's a frog in her tub who says he used to be a man. Worse, his memory is slipping away from him. Magic doesn't work, so there's only one way she can think of to turn him back—but can she bring herself to do it?

Copyright secured by Digiprove
Acknowledgements: All book cover artwork and all text g more...
All Rights Reserved