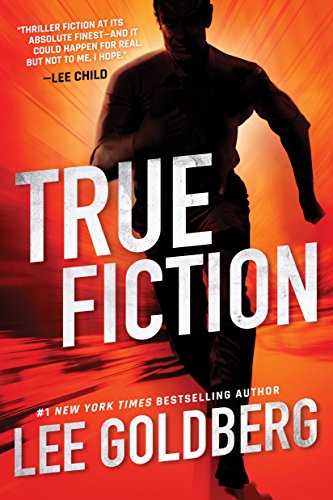 True Fiction
by Lee Goldberg
★★★★★
I almost DNF'd, then I realized right before my brain broke that …
True Fiction is a spoof. I thought you should know that right off the bat, since I was a little slow catching on and was really wondering. I might blame that on starting this book at 2:45 am and the fact it was listed as a thriller, but… maybe I was just slow. So, it's a spoof – a very funny spoof/thriller. Think Naked Gun meets Jack Reacher meets Kingpin. Yes, True Fiction is replete with low brow humor, over the top sex scenes done for humor, tinfoil hats, sex dolls, cursing, puns and other word play, crude references, and yet more low brow humor. Amazingly enough, despite my awkward description, True Fiction is a really funny and sometimes silly story about a writer for a popular television show – about a cop who's a plant that "can't stand crime" – who thought up a really inventive terrorist scenario during a CIA event employing writers for television shows. Who else can think up original and crazy ideas that pull in the audience but those writers?
A few years later, Ian Ludlow writes novels about an (you got it) over-the-top James Bond-type spy who puts women into comas with his lovemaking. Ian's on a book-signing tour when a plane crashes into Waikiki in a scenario that's too close to Ian's CIA terrorist plot to be coincidence. What Ian doesn't know might get him killed, and what he doesn't know – but he soon will – is that they're already out to kill him. Not to mention, the audience for his terrorist scenario isn't the one that he intended. Ian's the last member of the writers dream team left alive. On the run with a dog walker and a paranoid ex-actor from the hit show, Hollywood and Vine, Ian must stay alive long enough to find out who's really behind this dastardly plot. If he wants to see the closing credits, Ian must ask himself, "What would Straker do?"
Overall, this was a quirky fun read and I'm glad I chose it for my March Kindle First/First Reads. Recommended for those who want to laugh.
Edited to add: The technology, scenarios, and acts of terrorism in the book are unfortunately too real. While the circumstances, characterization, fighting, and personal actions of the characters are a spoof (well, and also the excerpts from the hero's books), the overarching scenario has scarily believable elements.
Book description
When a passenger jet crashes onto the beaches of Waikiki, bestselling thriller writer Ian Ludlow knows the horrific tragedy wasn't an accident.
Years before, the CIA enlisted Ian to dream up terrorism scenarios to prepare the government for nightmares they couldn't imagine. Now one of those schemes has come true, and Ian is the only person alive who knows how it was done…and who is behind the plot. That makes him too dangerous to live.
Ian goes on the run, sweeping up an innocent bystander in his plight—Margo French, a dog walker and aspiring singer. They are pursued by assassins and an all-seeing global-intelligence network that won't stop until Ian and Margo are dead. Ian has written thrillers like this before, but this time he doesn't know how it's going to end—or if he will be alive to find out.

Copyright secured by Digiprove
Acknowledgements: All book cover artwork and all text g more...
All Rights Reserved