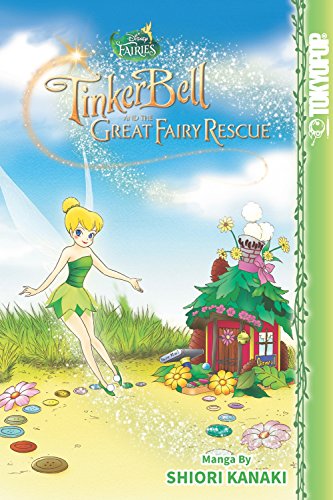 Tinker Bell and the Great Fairy Rescue
Disney Manga by Shiori Kanaki
★★★★★
When Tinker Bell and Vidia find Lizzy's fairy house Tinker Bell accidentally gets locked in and captured.
Hijinks and fairy trouble ensue. Tinker Bell and the Great Fairy Rescue a sweet Tinker Bell story converted from the movie (which I haven't seen) to manga. It's really nicely written, and the manga is drawn in a style that matches the storyline, sweet and innocent in many ways. It's definitely traditional Disney fairy fare. If you enjoy manga or the Disney fairy/Tinker Bell animated movies, you'll enjoy this manga.
In addition to the Tinker Bell story, there are previews of other Disney Fairy manga, a Grimm's fairytale, Town Musicians of Bremen, from Grimms Manga Tales – which is rather darkly and traditionally drawn in contrast to the other stories, and a Stitch short story, Stitch Meets Yuna, which is cute and typically Stitch-ish. There are also some ads for other Disney manga titles.
I tried read this on my Fire tablet and my iPad, and I think the quality is better on the iPad, I'm sure it's probably just the resolution of the screen. It was very readable on both.
Remember to follow the panels and conversation bubbles from right to left. There's a handy reference at the front (actually the back) of the book that shows you the flow in numbers, so you won't get lost. (Trying to read left to right will get your brain in a knot and make for some really weird conversations!)
Highly recommended for anyone who loved the Disney Tinker Bell and Fairy animated movies, loves manga, or simply enjoys a sweet children's book.
I received this book as an Advanced Reader Copy (ARC) from the publisher through NetGalley. My opinions are my own.
Book description
Every fairy attends the annual fairy camp on the mainland, and Tinker Bell is no different! When she finds out about the human family living nearby, her curiosity gets the better of her and she accidentally gets trapped in a tiny house made by a young girl named Lizzy. Now Vidia and the other fairies must come together to rescue Tink, before the humans discover her! Add "The Great Fairy Rescue" to your Disney Manga Collection today!

Copyright secured by Digiprove
Acknowledgements: All book cover artwork and all text g more...
All Rights Reserved