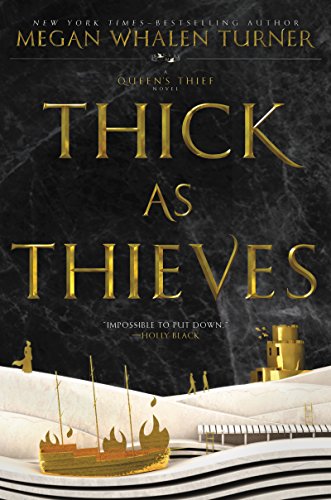 Thick as Thieves
by Megan Whalen Turner
★★★★★
It takes a thief to set a captive free.
Kamet is happy to be a powerful slave to a powerful man. His master, Nahuseresh, may have fallen in favor a bit over that small disaster in Atollia, but Nahuseresh is still the Emperor's nephew and brother to the heir. Kamet hoards his power and favors carefully as he knows he's destined to become the most powerful slave in the Mede empire and perhaps the second most powerful man. He's been trained all his life for this.
Kamet's happy with his lot in life, greedily eyeing his destination and putting up with beatings as part of the status quo, until he's stolen at Eugenides' command. The King of Attolia takes his spite out on Kamet, sending an Attolian soldier  to steal the slave away on the very day his master is poisoned. And thus begins Kamet's slow torturous journey to freedom he does not want in a kingdom he despises as a backwards cesspool.
There are many discoveries along the twisting road to freedom, friends made and found, gods wandering anonymously, and behind it all – overlapping intrigues and plan-within-plans – is our favorite thief. And behind him stand the Gods.
Megan Whalen Turner is at her twisty best. Everything we love about the Queen's Thief series is here and in play again. We are immersed in Eugenides' world in a fantastic read that I will immediately re-read just to see what hints or twists I missed.
There's much about the human spirit, slavery, freedom, and friendship in this book. It's all cleverly hidden in a story that's almost impossible to put down to eat and sleep. Megan Whalen Turner is an incredible writer and every bit of that talent is invested in the hidden cracks and crannies of this story.
My only quibble with this book is that it ended and I must wait for the next book.
Book description
Thick as Thieves is the eagerly anticipated new stand-alone novel set in the world of the Queen's Thief. New York Times-bestselling author Megan Whalen Turner's entrancing and award-winning Queen's Thief novels bring to life the world of the epics and feature one of the most charismatic and incorrigible characters of fiction, Eugenides the thief. Megan Whalen Turner's Queen's Thief novels are rich with political machinations and intrigue, battles lost and won, dangerous journeys, divine intervention, power, passion, revenge, and deception. Perfect for fans of Leigh Bardugo, Marie Lu, Patrick Rothfuss, and George R. R. Martin.
Kamet, a secretary and slave to his Mede master, has the ambition and the means to become one of the most powerful people in the Empire. But with a whispered warning the future he envisioned is wrenched away, and he is forced onto a very different path. Set in the world of the Queen's Thief, this epic adventure sees an ordinary hero take on an extraordinary mission. The Queen's Thief novels have been praised by writers, critics, reviewers, and fans, and have been honored with glowing reviews, "best of" citations, and numerous awards, including the Los Angeles Times Book Prize, a Newbery Honor, the Andre Norton Award shortlist, and the Mythopoeic Fantasy Award. Discover and rediscover the stand-alone companion stories The Thief, The Queen of Attolia, The King of Attolia, and A Conspiracy of Kings, all epic novels set in the world of the Queen's Thief. Thick as Thieves includes two maps, a map of the world of the Queen's Thief, and a map of Kamet's journey.

Copyright secured by Digiprove
Acknowledgements: All book cover artwork and all text g more...
All Rights Reserved