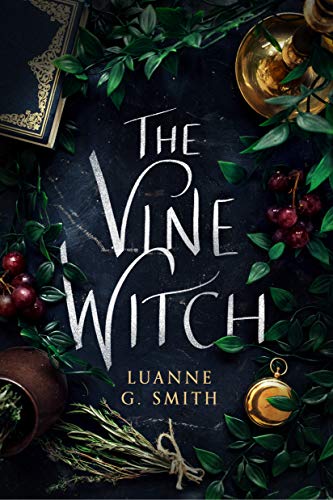 The Vine Witch
by Luanne G. Smith
★★★★★
It doesn't take time to make a good wine, just a witch
The Vine Witch by Luanne G. Smith was one of the best Kindle First Reads books that I've chosen in a while. Well, I take that back, One Word Kill was good also. Anyway, back to The Vine Witch. The writing was smooth, the plotline twisty although a few times predictable, the world-building was immersive, and the characters well-fleshed and relatable. All-in-all an enjoyable, fantastical almost-historical mystery.
It's not a spoiler to say that Elena Boureanu, a vine witch, has spent the last seven years as a toad. She emerges from her curse weakened and discovers that her beloved vineyard has been sold to Jean-Paul Martel, a die-hard scientific-winemaking-by-the-book sort of fellow. She's out for revenge against her ex for the curse that stole years of her life and left the vineyard unprotected against someone's hexes, gargoyles, and mildew.
Elena has to find a way to remove the spells from the vineyard, recreate her best vintage, and convince one science-bound male that vine witches are the nurturers of the best wines. Along the way to restoring the vineyard, she has to solve a murder, escape from prison for said murder, free a murderer or two, and convince a hard-headed lawyer that magic is all around him. From vineyards to carnivals to questionable company, Elena's journey will take her further and bring her full circle back to the beginning.
Highly recommended for lovers of alternate histories, fantasy, murder mysteries, and simply fun fantastical twists in the fabric of the world.
Book description
A young witch emerges from a curse to find her world upended in this gripping fantasy of betrayal, vengeance, and self-discovery set in turn-of-the-century France.
For centuries, the vineyards at Château Renard have depended on the talent of their vine witches, whose spells help create the world-renowned wine of the Chanceaux Valley. Then the skill of divining harvests fell into ruin when sorcière Elena Boureanu was blindsided by a curse. Now, after breaking the spell that confined her to the shallows of a marshland and weakened her magic, Elena is struggling to return to her former life. And the vineyard she was destined to inherit is now in the possession of a handsome stranger.
Vigneron Jean-Paul Martel naively favors science over superstition, and he certainly doesn't endorse the locals' belief in witches. But Elena knows a hex when she sees one, and the vineyard is covered in them. To stay on and help the vines recover, she'll have to hide her true identity, along with her plans for revenge against whoever stole seven winters of her life. And she won't rest until she can defy the evil powers that are still a threat to herself, Jean-Paul, and the ancient vine-witch legacy in the rolling hills of the Chanceaux Valley.

Copyright secured by Digiprove
Acknowledgements: All book cover artwork and all text g more...
All Rights Reserved