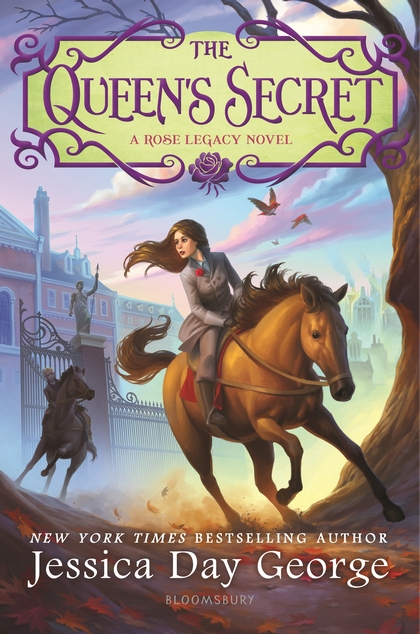 The Queen's Secret
by Jessica Day George
★★★★★
Ride into danger
The Queen's Secret, middle book of Jessica Day George's Rose Legacy trilogy (I love the dedication, a middle book for a middle child), is darker than the first book, action packed, and engrossing. Anthea, Finn, and Jilly have been running missions with their faithful steeds, listening for coded messages for the King. It's boring work that suddenly shifts into mortal danger as the King and the people turn on the riders. While the people have an historical misconception about diseases carried by the horses, the King has a more sinister role.
When the plague comes again, ravaging areas of the countryside populations, the Last Farm, the riders, and their horses must race to save those they can, collecting samples and dispensing vaccinations. But what if no one trusts them? What if it looks as if the riders and their horses are to blame? Can the Queen's secret save them?
The action is pretty intense throughout the book, there are plotline twists along the way, but our intrepid heroes loyalty won't be gainsaid – their determination and loyalty to their horses, their people, and their queen will drive them to do whatever it takes to prove themselves and stop the plague. The worldbuilding continues, the characterizations are tight and spot on for young people forced by circumstances into adult roles, and the storytelling is top notch.
Highly recommended for all fantasy lovers, fans of Jessica Day George, those who love horses, and those who simply love a great tale.
I received this book as a digital Advanced Reader Copy (ARC) from the publisher through NetGalley. My opinions are my own.
Book description
Anthea knows the truth about horses. They're not carriers of deadly disease like everyone in their kingdom thinks; they're majestic creatures who share their thoughts and feelings with her through The Way. Anthea has convinced the king of this, but at a cost–he demands that horses and riders with The Way do his bidding.
But when a deadly plague breaks out, the people believe that horses are the cause. As more fall ill, it's up to Anthea and her friends to transport medicine, all while keeping out of reach from Anthea's wicked mother. And when Anthea discovers a secret that could change the kingdom forever, she must risk everything to reveal the truth before it's too late.

Copyright secured by Digiprove
Acknowledgements: All book cover artwork and all text g more...
All Rights Reserved