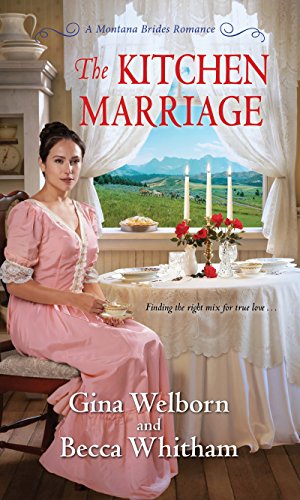 The Kitchen Marriage
by Gina Welborn and Becca Whitham
★★☆☆☆
Slow and annoying with unlikable characters and anachronisms

The excerpt for The Kitchen Marriage was interesting, so I gambled and grabbed an ARC. However, the negatives for this book make this book a disappointing read for me. The book is slow, the "French" accent more than annoying and unnecessary, and there is a plethora of characters and names that became a convoluted confusion. There's a lot of potential here, but it just misses the mark for me. The characters don't act Christian, the quite unlikeable brother and mail-order bride spend too much time thinking about each other and almost courting, when she's contracted to court his brother. This book is relentlessly a romance with very little else. I guess I'm more into romances that have something actually going on, such as a good mystery. The majority of the book is inner dialogue about how the characters thinking about the others.
In addition, I found the anachronisms a total deal-breaker, as that's  pet peeve of mine. If you're going to write a historical novel, please research that era and make your facts and environment match. The story is set in 1887 in Helena, Montana, right after the peak of the gold money influx. (Helena was settled in 1864 as a gold rush camp.) At times it feels as if The Kitchen Marriage set further back in time, although I do realize horse and buggies were still used, but the whole preponderance of brothels and that being a major theme, plus some of the other elements felt as if the authors were aiming for an old-West sort of vibe and it's in the description that Zoe goes to the frontier.
At other times, the vernacular and circumstances were too modern. I was dealing with it until the whole conversation about a magazine recommending "old poop" and the whole poop discussion that followed. Poop is a modern word that would have come into use later than the book was set and its use in a conversation would have been low-class and vulgar until very recent times. There were other anachronisms, such as what you could go grab at the local grocery in a town of the size and time of 1800s Helena, Montana. And the same goes for the frequent use of "red light district." That term came into use later than the book was set. I'd cite more, but my Kindle lost all my highlights and it's not worth going back to try to find everything anachronistic.
My take: A very slow read with multiple unlikable characters, an annoying dialect, and multiple anachronisms. After the "poop" incident, I ended up skimming to the end, just pausing to read scenes here and there. Overall, not a book I'd recommend, although I might try another book by these authors, with the caveat that I would drop it if there was another awkward dialect. (It works so much better when an author simply tells us someone said something in a dialect, preferably from a witness's thoughts about it, and then uses normal speech, which we can infer is said with an accent.)
I received this book as an Advanced Reader Copy (ARC) from the publisher through NetGalley. My opinions are my own.
Book description
When French immigrant Zoe de Fleur is forced out of her position as household cook for a high society New Yorker, the pretty and talented chef seizes an unexpected chance to head west for a new beginning. She pursues what she thinks is a prestigious job in the frontier's "finest kitchen," but instead finds herself in a matchmaker's agency . . .
Isaak Gunderson is one of Helena, Montana's most eligible bachelors, but he's too focused on running for mayor and his family's business to think about a wife and family. His twin brother, Jakob, is supposed to be too busy as well, yet sends for a mail-order bride anyway. Isaak doesn't want to fuel an ongoing rivalry with his twin, but this tempting newcomer can't be ignored. If only she'd come to Helena a different way and loving her wasn't a betrayal . . .

Copyright secured by Digiprove
Acknowledgements: All book cover artwork and all text g more...
All Rights Reserved