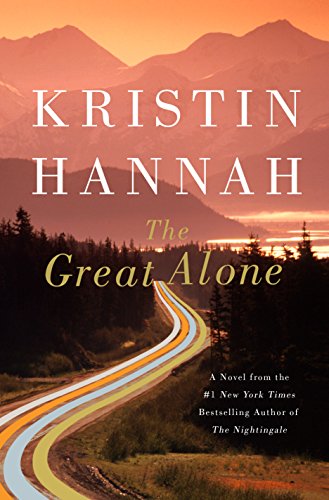 The Great Alone
★★★★★
Can they survive the dark and danger they bring to the wilderness?
Ernt Allbright can't run far enough to escape his demons. Going off-grid in Alaska, Ernt drags his wife, Cora, and his daughter, Leni, into a wilderness experience none of them are prepared for in an effort to start a new life. They must learn to garden, hunt, and gather as much food as possible to survive the long winter, guarding against bears, wolves, and other predators that would destroy their home. The townspeople donate livestock and helpfully train the small family in homesteading skills to improve their chances of holding on until spring. As time goes by, Leni finds new friendships even as her father alienates the townspeople. As the winter days shorten and daylight slips away, Ernt's grip on his temper and sanity wanes and his family will pay the price.
There's a lot of love in The Great Alone: a mother's love, a friend's love, a family's love, romantic love, and dysfunctional love. Some of the romances are rock-solid and life-affirming. One romance is love at its best: patient, enduring, and indelible. However, the dysfunctional love that binds Ernt and Cora intersperses abusive episodes with declarations of love, regret, and broken promises.
The residents of Kaneq, Alaska, don't understand why Leni's mother doesn't tell someone, doesn't leave, doesn't accept help, why she doesn't stop loving her abusive husband. They don't understand why Leni doesn't leave her parents and escape to college. But I can relate. It takes years to grow past the fear of telling people that one of your parents is hurting the other or hurting you and your siblings. Hiding becomes ingrained. Your family closes its ranks and stands alone against the world. There's a wall that must not be breached. Your family pretends that the bruises and broken bones are from accidents. It becomes normal to both love and fear your parent. I think Kristin Hannah beautifully captures the essence of that conflict and dichotomy.
I couldn't sleep last night, and The Great Alone caught my eye as I was perusing Kindle books and nomming on a Skor bar hoping to feel sleep sneaking up on me. So quickly was I caught by this book that half my Skor bar still remains stranded on my bureau, abandoned when I nabbed my tablet and snuck to my recliner without waking the significant other. The story was so enthralling that I devoured it in one extended sitting broken only by puppy potty breaks.
The Great Alone is a chilling, emotionally wrenching roller coaster ride. Kristin Hannah has created characters that are believable and realistically populate her vision of a child caught between a parent she loves and cannot abandon and a parent who claims to love her. In the midst of becoming a warrior capable of surviving her family, Alaska, hard choices, and the tragedies that rock her world, Leni discovers the true families that love her.
It's hard to write about this book and not include spoilers, so I'll stop here and just say that there is a lot of sorrow (ask my Kleenex box about it), growth, and even joy in The Great Alone. For all its pain, this tale is unforgettably uplifting. Highly recommended.
Book description
Alaska, 1974.
Unpredictable. Unforgiving. Untamed.
For a family in crisis, the ultimate test of survival.
Ernt Allbright, a former POW, comes home from the Vietnam war a changed and volatile man. When he loses yet another job, he makes an impulsive decision: he will move his family north, to Alaska, where they will live off the grid in America's last true frontier.
Thirteen-year-old Leni, a girl coming of age in a tumultuous time, caught in the riptide of her parents' passionate, stormy relationship, dares to hope that a new land will lead to a better future for her family. She is desperate for a place to belong. Her mother, Cora, will do anything and go anywhere for the man she loves, even if means following him into the unknown.
At first, Alaska seems to be the answer to their prayers. In a wild, remote corner of the state, they find a fiercely independent community of strong men and even stronger women. The long, sunlit days and the generosity of the locals make up for the Allbrights' lack of preparation and dwindling resources.
But as winter approaches and darkness descends on Alaska, Ernt's fragile mental state deteriorates and the family begins to fracture. Soon the perils outside pale in comparison to threats from within. In their small cabin, covered in snow, blanketed in eighteen hours of night, Leni and her mother learn the terrible truth: they are on their own. In the wild, there is no one to save them but themselves.
In this unforgettable portrait of human frailty and resilience, Kristin Hannah reveals the indomitable character of the modern American pioneer and the spirit of a vanishing Alaska—a place of incomparable beauty and danger. The Great Alone is a daring, beautiful, stay-up-all-night story about love and loss, the fight for survival, and the wildness that lives in both man and nature.

Copyright secured by Digiprove
Acknowledgements: All book cover artwork and all text g more...
All Rights Reserved