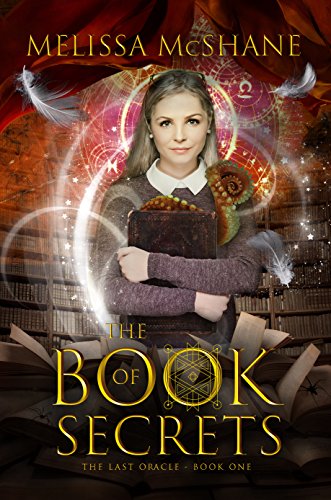 The Book of Secrets
by Melissa McShane
★★★★★
Ever thought that your new job was a killer? Try working at THIS bookstore!!
Helena just took a job at a quaint bookstore, and her first day's a doozy. She quickly discovers that Abernathy's is everything you ever wanted in a bookstore and much more… Her boss is dead, magic is real, she's inherited the bookstore which turns out to be an oracle, and it seems she's on at least one killer's hit list. Luckily Helena's mom is making lasagna for dinner, so it's not all bad.
Multiple entities would like to get Helena out of the way, including some who would like to delete Abernathy's oracular powers altogether. To make matters worse, not only must Helena learn to understand this new magical world and the Long War that she's been dragged into, but the instruction manual for the store is missing. Add in a jealous custodian wannabe who might be scheming against her, nasty murderous critters, and perhaps a murderous human or two, and Helena's life gets a bit more complicated. Thankfully, one of the local Wardens is helpful in a buff ex-Navy SEAL lethal way. And, luckily, Helena has her BFF Viv to confide in and count on for fashion advice.
Book of Secrets is a fun, fast read with a really cool magical system. It's obviously an introduction to a world and magical system that is much larger than what is explained in this first book, leaving room for growth and interesting developments.
Overall: very worth the read. I'm looking forward to the next installment.
I received this book as an Advanced Reader Copy (ARC) from NetGalley. My opinions are my own.
Book description
Helena Davies just wants a job that will get her out of her parents' basement. Abernathy's Bookstore is disorganized, out of the way, and smells funny, but it pays well and promises to at least be interesting. She has no idea how interesting her life will become. By the end of the first day, Helena has a dead boss in the basement, an unexpected promotion, and the news that she is now a part of an endless war against creatures from another reality.
As Abernathy's newest custodian, Helena is responsible for its secrets, including the most important one: Abernathy's isn't just a bookstore. It's the world's only living oracle, producing prophecies to help fight the war against alien invaders bent on draining this world of its magic. Helena's job is to find books to answer questions put to the oracle by the Wardens, fighters in the Long War. It seems simple enough, but Helena's new job is anything but.
She has allies: her best friend Viv, from whom she has no secrets; Harry and Harriet Keller, elderly magi skilled at uncovering secrets; and the enigmatic Malcolm Campbell, warrior magus and one of the few who have faith in Helena's abilities. But not everyone is thrilled that an outsider now has charge of one of the world's most powerful magical entities. Helena must defend herself against the antagonism of Judy Rasmussen, who'd expected to be the next custodian of Abernathy's, and her father William, powerful leader of the Wardens and someone with an agenda of his own.
Without training, without any knowledge of the magical world, and facing the hostility of those who'd wanted someone else to be Abernathy's custodian, Helena must navigate the treacherous waters of her new world and find a place for herself within it. But there's still a murderer on the loose, someone who intended to control Abernathy's by killing its custodian—and Helena might be next on his list.

Copyright secured by Digiprove
Acknowledgements: All book cover artwork and all text g more...
All Rights Reserved