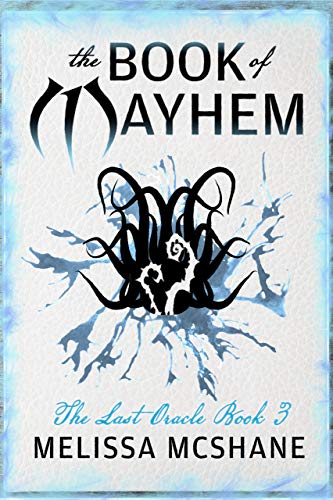 The Book of Mayhem
by Melissa McShane
★★★★★
Can Helena survive being neutral?
McShane drops us back into the fantastical city of Portland inhabited by Wardens still at war with the invaders. But the Wardens are divided, with the Nicolliens and Ambrosites at each other's throats and their leaders going so far as to dictate what hours their members can use Abernathy's oracular facilities. Helena isn't too thrilled, but she continues handing out auguries and practicing her neutrality, despite her own fondness for a certain well-dressed Ambrosite.
But there's a serial killer in Portland intent on harvesting magic who's not too picky who he chooses, human, Warden, or magi. Can Helena keep her head and the Accords with Malcolm targeted as the main suspect? Helena must deal with accepting augury requests from Nicolliens who want Malcolm dead, a dead-beat magi with a paucity of funds and an excess of old books, a not-totally-likeable substitute boyfriend, and an assistant whose neutrality is a bit wobbly. Before it's over, Helena will stand before the Blaze once again. Could someone please give this girl some shades?
As usual, McShane pulls us into her world with skilled characterization, immersive world-building, pithy commentary on the human condition, a fast-paced plot slamming home a compelling mystery, and enough threads neatly wrapped that, when the curtain descends, you're both satisfied and yet left longing for the next installment. I can only hope Helena finally reads the Accords. Or hires a magi lawyer with skillz. And that the next book comes out, like, tomorrow. Highly recommended, along with all McShane's books. Gotta love a author that hits a home run every time at bat.
Side note: Love the dedication and the fact that McShane's mom is reading her daughter's urban fantasy novels! I also want to find a bookstore that will let me trade my old hardbacks for an augury or two. If you know of one, please leave a comment with the address and detailed directions for the directionally impaired. 😉
I received this book as a digital Advanced Reader Copy (ARC) from the author. My opinions are my own.
Book description
With two threats to the oracular bookstore Abernathy's behind her, Helena finally feels secure in her role as custodian. But when a new danger rises, it threatens not the store, but the magi of Portland. As tensions between the factions grow, and monsters terrorize the city, the conflict tests Helena's neutrality and requires her to solve the mystery—before she becomes the next victim.

Copyright secured by Digiprove
Acknowledgements: All book cover artwork and all text g more...
All Rights Reserved