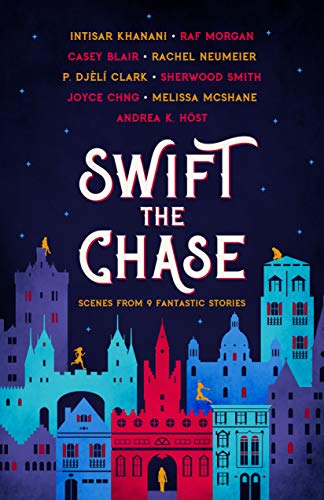 Swift the Chase
by Raf Morgan, Intisar Khanani, Casey Blair, Rachel Neumeier, P. Djèlí Clark, Sherwood Smith, Joyce Chng, Melissa McShane, Andrea K. Höst
★★★★★
Fun, frenetic read that had me grabbing books & bookmarking websites
I was initially interested in this anthology/sampler of chase scenes, not only because I love a great chase, but because I own books by four of the authors, two of them are already on my must-preorder short-list, and I knew they would be in good company. And they were. Too much fun!
All of the chase scenes in this book were fast, frenetic rides and that led me to the only downside of this book. I kept having to stop to rush to the Kindle store, buy a book or two, then return to read more. In cases where I couldn't find the book in the Kindle store, I had to bookmark the author's website to research later and send myself an email reminding myself why I was doing that, so I could be sure to get their books, all the while working to get back to reading the story at hand. (One could do these tasks in another more orderly fashion, but I'm an ADD-type person – see, if I say it that way it doesn't sound so bad as "I have ADD and my brain drops things on a regular basis even as I walk from one side of the room to the other or flip the page in my ebook" – and I must strike while the iron is hot. Squirrel!)
Swift the Chase was an entertaining and efficient way to find new books to read and several new authors that I am now following on Amazon. Nothing better than a new book just waiting to be read, unless of course, it's several of them. 😊
Highly recommended for those who love fantastical storytelling, heroic heroines, and fleetness of foot.
I received this book as an Advanced Reader Copy (ARC) ebook. My opinions are my own.
Book description
Magic—danger—and the thrill of the chase!
Experience the rush of racing across rooftops with thieves—or the desperation of fleeing an assassin who knows you a little too well. From the fish market of a tropical island sultanate, to the monster-filled alleys of a steampunk London, to a land where souls take different forms as they rise or fall through the layers of the world, this collection of chase scenes and vignettes set in nine distinctive worlds will leave you spellbound.
Find unexpected allies, unshakeable enemies, sudden twists and turns, and always the swiftness of the chase—whether you're on the hunt, or racing for your life.
This sampler includes an exclusive bonus scene set during the events of Tea Set and Match by Casey Blair, available for free online, and a scene from an unpublished novel by Rachel Neumeier not available anywhere else. The excerpts by Intisar Khanani, Raf Morgan, P. Djèlí Clark, Sherwood Smith, Joyce Chng, Melissa McShane, and Andrea K. Höst are from longer works that are available for sale at all major retailers.

Copyright secured by Digiprove
Acknowledgements: All book cover artwork and all text g more...
All Rights Reserved